Title:  Woodbox Beats & Balladry
Artist:  DBR (Daniel Bernard Roumain)
Label:  Thirsty Ear
Catalog No.:  THI 57193.2
Formats:  CD, MP3
Release Date:  March 30, 2010
Haitian-American violinist Daniel Bernard Roumain (aka DBR) has made a name for himself as a genre-bending innovator blending classical music and hip hop, a concert violinist, and art music composer who has performed on American Idol with Lady GaGa.   His newest release, Woodbox Beats & Balladry upholds this reputation, but its contents, and DBR's talent, deserve to be unpacked and explored beyond the simple classical-meets-hip-hop moniker. Technology plays a significant role on this album, not only with the turntables and samples, but through the use of computer composition, synth programming, and the custom 4-, 5-, and 6-string electro-acoustic violins that DBR plays.  His academic musical training—he earned a doctorate in composition studying with William Bolcom, and is on the composition faculty of Vanderbilt University—is evident throughout the forms and techniques employed throughout the album.
Compositionally, DBR borrows from the meticulous craftsmanship of the Second Viennese School and from minimalist composers such as Philip Glass as much as from the sampling and beat-building methods of hip hop and techno. His six-part Sonata for Violin and Turntable, co-composed with turntablist Elan Vytal, marries one of the oldest genres in the instrumental repertoire with new technologies and popular sounds.  He notes on his website that every track on the album is fully notated, though he employs several different types of notation (numerical, graphic, and traditional) in his writing.  The violin remains the dominant part of the musical texture throughout, and DBR employs a variety of extended performance techniques and effects pedals in addition to digital processing; the result is always virtuosic, but it channels sources as diverse as Romantic violin virtuosi, breakneck bebop soloists, and rock guitar shredders.
Only four parts of the Sonata for Violin and Turntable are included here, and they're interspersed out of numerical order among the other tracks, so it's hard to get a sense of the Sonata as a whole, or whether it's even one multi-movement piece or several different pieces.  Nevertheless, DBR utilizes the possibilities of both tools for their technological, textural, and melodic abilities:  Part 1 opens with a slow, sparse solo violin intro with an improvisational quality; Part 2 features more rhythmic manipulations of recorded samples, plus delicate moments of sound collage reminiscent of Varèse; Part 4 lays down R&B-influenced instrumental samples under the wailing violin with all the drama of an operatic aria; and Part 6 intertwines a jazz-tinged violin line with fuzzed electric guitar.
The other tracks on the album explore a range of other influences.  The opener "Spaceships Over Haiti" nods to DBR's heritage while letting him shred like an electric guitarist over a backing rock band.  "Simone" offers a wordless ballad, with all the stillness and sparse textures of modal jazz.  "Armstrong," on the other hand, channels bebop's frenetic energy through a heavy metal filter and funk samples.   The mid-tempo jazz riffs of "Moonshine" are punctuated by a recurring Middle Eastern rhythmic motif, while the final track "Our Country" reinterprets "My Country 'Tis of Thee" as a musical meditation.
Here's the official trailer for the album (courtesy of Thirsty Ear Recordings), in which DBR discusses his background and approach to the album: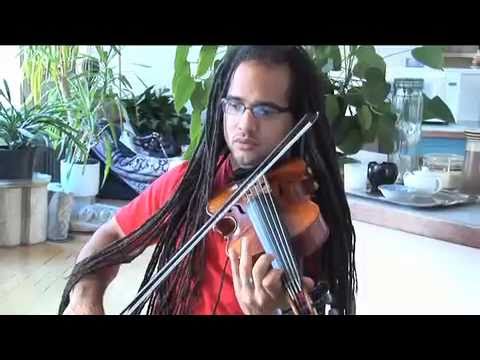 Not all of DBR's fusion is entirely successful—at times, the aggression and noise levels overwhelm the very masterful construction of these pieces.  But his gift lies in understanding the full musical possibilities of all of his instruments, turntables and drum machines included, and DBR has a composer's ingenuity for making them work together in innovative and expressive ways, rather than simply relying on mixing contrasting stereotypical gestures from different genres.  Woodbox Beats and Balladry offers exciting and finely crafted musical ideas, whether you're listening for the compositional process, the virtuosic performances, or the infusion of hip hop style.
Reviewed by Ann Shafer