Title: Ibeyi
Artist: Ibeyi
Label: XL Recordings
Formats: CD, LP, MP3
Release date: February 17, 2015
The French/Cuban twins Lisa-Kainde and Naomi Diaz make up the band Ibeyi, which is the Yoruba word for twin. The 20 year-old sisters' self-titled debut album, released on XL Recordings, is one of few albums produced by the head of XL Recordings himself, Richard Russell, and is a masterful mix of culture and music.
Despite growing up in France, Ibeyi sing in both English and Yoruba, and often use Afro-Caribbean instrumentation. Their interest in Yoruba culture, language, and music reflects the heritage of their late Cuban father and acclaimed percussionist, Anga Diaz. Though both sisters sing, on most songs Lisa-Kainde takes the lead vocals and plays piano, while Naomi plays the cajón and batá. However, what really makes this duo special is the joining of their voices to create ethereal harmonies.
Many of the tracks on Ibeyi are influenced not only musically by Yoruba culture, but also draw from religious traditions, particularly Santeria. They mention multiple orishas, or Yoruba spirits, such as Oya, Aggayu, Oshun, Shango and Yemaya. This is most clearly heard in the first and last tracks, "Eleggua (Intro)" and "Ibeyi (Outro)."
Like many songs on the album, "Ghosts" finds a beautiful balance between modern soul music, world music, and something other-worldly. The simplicity of the music, mainly cajon and piano, with occasional verbal sounds and hand claps, enhances the vocals of the sisters. It is their voices that demand attention, whether it is the grit of Lisa-Kainde's soul singing or their flawless harmonies. About two minutes in, the repeated lyrics "Without love, we ain't nothing" sung only by Lisa-Kainde with the piano, mark a change in mood, as Ibeyi switches from singing somberly about the past to singing joyfully in Yoruba. In the video, they change from being very serious to having big smiles on their faces as they end the song: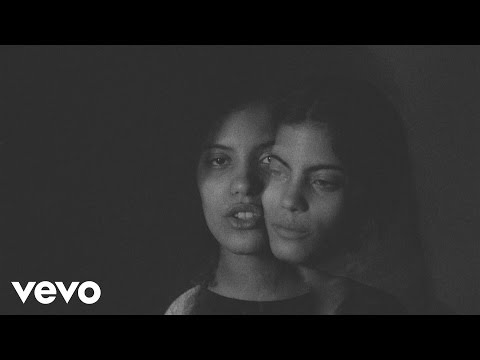 With a much slower start, "Behind the Curtain" begins softly, as a ballad about losing a love with only piano and vocals. Their questioning lyrics try to comfort as well, as they sing "Baby, just have no fear. I am here." Much like in "Ghosts," percussion enters three minutes into the song, joining Ibeyi's harmonies as they sing in Yoruba while the piano plays softly in the background, cyclically bringing the song to a conclusive end.
With a heavy beat and a previously unheard bass, "Stranger/Lover" has a more complex production than most of the other tracks, merging soul music with electronic music and replacing the usual vulnerability of the vocals with strength and boldness. It is an example of the diversity of Ibeyi and their potential to tap into many different genres while retaining their unique style.
"Mama Says," an emotionally moving track about a woman who has lost her love, is obviously very personal for the sisters, who lost their father when they were only 11 years old. The music video draws on this emotion, featuring only Ibeyi and their mother with a simple theme of darkness versus light. This sentiment carries over to "Yanira," written to honor the twins' deceased older sister. While relying more heavily on percussion, including the batá and hand claps, Ibeyi's characteristic strong harmonies are still present and vocals remain in the forefront, leaving all other instruments as merely accompaniments and accents.
Ibeyi use their connections to family and past experiences, whether despairing loss or their Yoruba heritage, to create beautiful music. They have a unique style that draws the listener in and captivates with deep emotion and interesting arrangements. Ibeyi is an exciting collision of traditional and modern cultures that showcases the incredible talent of Lisa-Kainde and Naomi Diaz. It also bursts with potential: with such a strong debut album from such young artists, one can only imagine where Ibeyi will go next.
Reviewed by Anna Polovick