Title: Spirit Rising
Artist: Angélique Kidjo
Label: Razor & Tie
Formats:  CD, MP3, DVD (PBS)
Release date:  February 21, 2012
Designated "Africa's premier diva" by Time magazine, Beninoise singer-songwriter Angélique Kidjo has released a string of internationally acclaimed albums that draw upon traditional African music as well as jazz and other genres representing the African diaspora―in her words, "music without boundaries." At the same time, she has lent her talent and energy to a host of organizations promoting peace, conservation, and the empowerment of women.
In 2011, twenty years after she embarked on her solo career, Boston's WGBH celebrated the occasion with the live concert "Spirit Rising: Angéélique Kidjo and Friends" featuring long time collaborator Branford Marsalis, Josh Groban, Dianne Reeves, and Ezra Koenig (of Vampire Weekend).  The rhythm section includes Thierry Vaton on piano, Christian McBride on bass, Dominic James and Marvin Sewell on guitars, Daniel Freedman on drums, and Magatte Sow on percussion, accompanied variously by a trio of horn players from Berklee College, the Kuumba Singers of Harvard, the Borremeo String Quartet and, in the DVD edition, dancers from the Broadway show Fela!.
The concept behind the concert was to feature songs culled from different stages of Kidjo's career, while also paying homage to her African roots.  Tracks include "Batonga" from her 1991 breakthrough album Logozo, "Tumba" and "Afirika" from the Brazilian influenced Black Ivory Soul (2002), and "N'Yin Wan Nou We" from her Latin album Oyaya! (2004). Much of the remainder of the set is drawn from her most recent album, Õÿö (2010), including the highlife tune "Kelele," a cover of the Rolling Stones' "Gimme Shelter" featuring Diane Reeves, and a rendition of Curtis Mayfield's "Move On Up" featuring Marsalis. Additional tracks include Bob Marley's "Redemption Song," Gershwin's "Summertime," a Kidjo arrangement of Ravel's "Bolero," Vampire Weekend's "I Think UR a Contra," and "Pearls" sung in a duet with Groban.
Following is the official trailer for the DVD: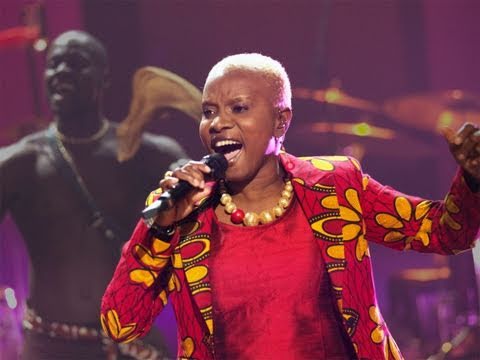 Spirit Rising is Kidjo's first live album, and fans will enjoy these new renditions of her best loved songs. The concert first aired over PBS in March 2012 and is now available on DVD, which features five songs not included on the CD version, as well as a back-stage interview with Kidjo.
Reviewed by Brenda Nelson-Strauss