Title: Celebrating Elvin Jones
Artist: Will Calhoun
Label: Motema
Formats: CD, Digital
Release date: August 19, 2016
Drummer Will Calhoun has proven time and again that he's comfortable performing any style of music, from the hard rock of the groundbreaking band Living Colour, of which he is a founding member, to jazz, fusion, funk, and hip hop. But for his solo albums, the Berklee School of Music graduate most frequently chooses to further his exploration of jazz. On his latest release, Celebrating Elvin Jones, Calhoun pays homage to the legendary drummer. As a member of the John Coltrane Quartet, Elvin Jones became one of the most influential drummers of all time, performing on the seminal album A Love Supreme, as well as many other albums for Coltrane and other artists ranging from Miles Davis to Ornette Coleman, Freddy Hubbard, McCoy Tyner, Quincy Jones, and J.J. Johnson. Jones also released dozens of his own projects between 1961-1999 on the Atlantic, Impulse!, Blue Note, and Vanguard labels.
Jones made a profound impact on Calhoun, who met the drummer at a Village Vanguard concert when he was just 14. The two maintained contact over the years until Jones' passing in 2004. According to Calhoun, "Elvin connected my worlds. Although I saw him playing jazz, I felt rock and roll, I felt fusion, I felt African music. It sounds electric, it sounds acoustic, it sounds very African, it sounds very Latin, there are all these elements in there."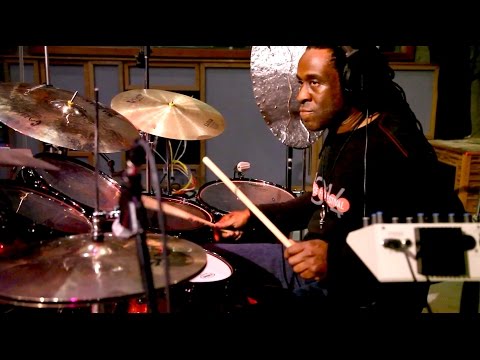 A bevy of seasoned veterans join Calhoun on Celebrating Elvin Jones, including Christian McBride on bass, Antoine Roney on sax, Carlos McKinney on keyboards, and Keyon Harrold on trumpet—all of whom either played with or were influenced by Jones. The album opens with the Jones original, "EJ Blues," first released on Live in Japan 1978 by the Elvin Jones Jazz Machine. Clocking in at just over seven minutes, Calhoun's arrangement is less than half the length of Jones' live version, but certainly doesn't disappoint in this energetic reading with extended solos by McBride and Harrold. On "Whew," composed by bassist Wilbur Little who recorded it with Jones on the 1969 album Poly-Currents, McBride deftly weaves in and out of the complex rhythms and improvisations. Next up, the band lays into Coltrane's "Harmonique," included on Jones' 1984 tribute album Brother John. Establishing a solid groove from the get go, Calhoun and McBride fully support Roney's solo efforts.
From here the album takes a significant detour with "Sarmastah," penned by Calhoun, who surprises listeners with an introspective 12-string acoustic guitar solo. Backed by Roney on soprano sax and McKinney on electric piano, Calhoun also covers percussion, drawing upon the "cymbal mystique" for which Jones was famous in this rhythmically complex track. Following are two great showcases for Calhoun's technique: Wayne Shorter's "Mahjong" and "Shinjitsu," composed by Keiko Jones (Elvin's wife), that's a tour-de-force on which Calhoun unleashes a wide range of percussion during extended solos.
Two prominent guest artists are featured on the final tracks, which are definite highlights. The late Senegalese percussionist Doudou N'Diaye Rose (who died shortly after this recording) and five of his group drummers perform the intro on the arrangement of the traditional Japanese folk song "Doll of the Bride." Calhoun then takes over, channeling Rose's ability to create complex ever-changing rhythmic variations which propel his group through several improvisatory sections that showcase each member, before concluding in a flurry of percussive effects.
Keyboardist/composer Jan Hammer joins the group on the final track to revisit "Destiny," which he performed on Jones' 1974 album, On the Mountain. In a grand finale that's nothing short of cataclysmic, Hammer drives the melody forward before handing the reins to Calhoun, who unleashes an explosive array of percussion, then brings the group back to conclude the piece with a satisfyingly progressive fusion.
In his tribute to Elvin Jones, Calhoun proves his own status as a master drummer with an impressive arsenal and intellectual curiosity that's worthy of respect. Hats off to the other members of the group, who all contribute to this fantastic effort.
Reviewed by Brenda Nelson-Strauss