Title: In Paris: The Definitive ORTF Recording
Artist: Wes Montgomery
Label: Resonance
Formats: CD, Vinyl (2 discs with collector postcards), MP3
Release date: January 26, 2018
In my experience, official releases of recordings are, years later, sometimes followed by bootleg reissues. In this case, that sequence is reversed.  These recordings, from a Wes Montgomery concert at the Theatre des Champs-Elysees in Paris on March 27, 1965, are being officially issued for the first time by Resonance Records, in collaboration with Montgomery's family and French ORTF Network. On this performance, Wes is backed by Johnny Griffin (tenor sax on four titles), Harold Mabern (piano), Arthur Harper (bass), and Jimmy Lovelace (drums).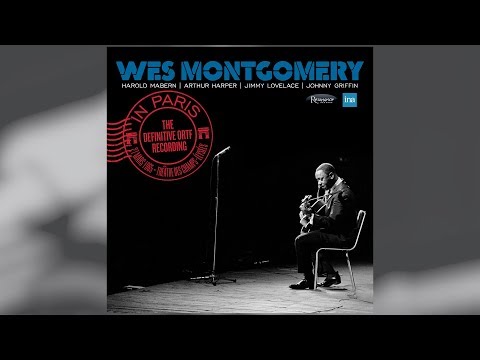 So what do we have?  This is the finest live recording by one of the three most important guitarists in jazz history, in my view, linking Wes with Charlie Christian and Django Reinhardt. Yes, there have been others possessing great talents, but these three were all formative artists in different ways.
Superficially, Wes's recording career can be divided into four stages:
As a sideman with Lionel Hampton (1948-1950);
As an emerging artist (1950-1959) when he mostly performed with his brothers or other Indianapolis-based musicians and recorded for World Pacific and Pacific Jazz Records;
As a featured artist (1959-1963) when he then emerged as a heralded new talent on Riverside Records, releasing a series of albums that are hallmarks in the history of jazz guitar.
As a popular jazz guitarist after he moved to Verve and then A&M Records and became an artist who reached a broader audience with his recordings but without ever losing his focus on performing in the "Riverside era style" in concerts and clubs.
This recording from Paris is perhaps the finest from this final stage of Wes's career.  His touring group of the day is joined by noted saxophonist Johnny Griffin on several of the tunes.
Resonance Records has become a primary source for remarkable releases of previously unissued recordings by Wes, all produced with the highest audio and production standards that truly honor his legacy. It is fitting that the company has released the present recording, the latest chronologically in this family of recordings that began with performances from Wes's early years in Indianapolis and, a few years later, performing before members of the Indianapolis Jazz Club, and with pianist Wynton Kelley performing in a club in Seattle (these are linked to reviews in earlier issues of Black Grooves).
In Paris has some wonderful music. Performances range from up tempo versions of "Jingles" and "To Wane" to a beautiful slow ballad, "The Girl Next Door." But there are really no single highlights. The musicians perform as a team, collectively inspired by the occasion. There is simply no point in singling out individual tunes for this is truly a remarkable performance throughout. It is every bit the equal of Wes's best albums, ever. We are so fortunate that it was recorded and is now available in superior sound.
When I compare this recording to an earlier bootleg issue on Definitive Records in my collection, I am impressed by the quality of the remixing from the original tapes that increases the richness and power of the performance. The album notes explain that Wes avoided flying and only toured Europe on this single occasion (the 32-page booklet includes essays by Vincent Pelote, Pascal Rozat and Resonance producer Zev Feldman). Fortunately, this resulted in bootlegged recordings from Belgium, The Netherlands, Germany and England, along with a televised program produced by the BBC from London.  But this release of a 1965 performance in Paris is the highlight, and one of the finest in Wes's career.
Reviewed by Thomas P. Hustad
Professor Emeritus of Marketing, Kelley School of Business
Author: Born to Play: Ruby Braff's Discography and Directory of Performances