Title:  Walk Alone
Artist:  PJ Morton
Label:  Indieblue Music
Formats: CD, MP3
Catalog No.: 7764
Release date:  April 6, 2010
–
"In the state of the world I feel alone because of the way I choose to do music with true instrumentation. Creating stories and lyrics with meaning feels like a minority not a majority."―PJ Morton
There is very little semblance of live instrumentation in much of today's mainstream music, where it is replaced by beats, manufactured samples of instrument sounds and the beloved auto-tune.  One artist, PJ Morton, has made it his goal to jumpstart the return of live music. His name is one that many in the gospel music industry may be familiar with, his father being Bishop Paul S. Morton, founder of The Full Gospel Baptist Church Fellowship in New Orleans.
As the son of a Bishop, expectations for PJ's musical direction have been centered on his religious beliefs. PJ, however, has other plans. His response to these expectations is housed in a book released in July 2009 entitled Why Can't I Sing About Love and that is simply what PJ has done. His latest and fifth studio album to date, Walk Alone, brilliantly addresses his personal struggles as a musician advocating for change in the music industry, as well as his desire to "sing about love."
The personal effects of a musician with a purpose are evident in the opening title track, "Walk Alone."  Established by the quote above taken from PJ Morton's website, this album, along with it's title track, is meant to be a statement of Morton's reality―a personal, musical account.  This sentiment is continued as he takes us on a journey through the complications of love in "Girlfriend," longing for love in "Don't Ever Leave," love lost in "She's Gone," finding true love in "The One," the quest to retrieve love in "I Need Your Love," and love's emotional rollercoaster in "Love You More."
One of the most personal tracks on the album is "Son of a Preacherman."  Instead of singing, Morton chooses to speak directly from his life story―a story of faith, family, and the struggle to be the musician he feels he was purposed to be.  The heart of the meaning of this song rings through the hook "No matter where I stand/no matter who I am/some people will only ever see the son of a preacherman." As much as the song is an opportunity for understanding, it is also a testament of faith and a proclamation―that who Morton is as a musician and person will be represented through his music.
Following is a trailer for Morton's documentary, "Son of a Preacherman:"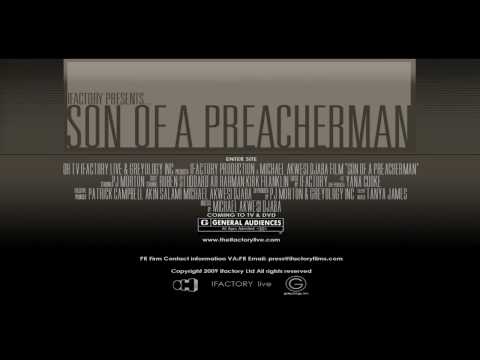 "Mountains and Molehills" continues with a statement of encouragement to all who hope to achieve their dreams. The message is simple: "you won't know unless you try."  "Forever" takes the listener back to Morton's foundational concept―love. This song speaks of the joy and appreciation of true love: "Never in my life/has it felt so right/and I believe this time will last forever/not in my wildest dreams/did I ever believe/that this could really be forever."
The last track, "Let Go," is probably the most important in terms of understanding Morton as an artist and individual. Sung as a duet with his father, Bishop Paul S. Morton, the song was previously released by gospel singer DeWayne Woods. The message is simple: regardless of what direction and which avenues Morton takes as a musician, his faith is never far behind.
In all, Walk Alone introduces the listener to the true PJ Morton. Brilliantly composed, musically and lyrically inspiring, this album represents an artist who appreciates the art of creating timeless music that not only reaches, but remains with any who encounter it. Amidst the assumptions and the expectations, PJ Morton utilizes his talents as a pianist, singer, songwriter, and producer to make a statement of his own―standing strong on his faith and belief that the path he is on is one purposed for him.
Reviewed by Christina Harrison