Title: Greater Than
Artist: Tye Tribbett
Label: EMI Gospel
Formats: CD, MP3
Release date: August 6, 2013
To call Tye Tribbett's Greater Than a "live" recording seems like an understatement. As with each of his projects (such as Victory Live! and Stand Out), this album opens with a bang and is an energy-filled ride to the end. Tribbett's heavy hitting approach with occasional lightening speed (yet danceable) tempos and unpredictable transitions continues to please his rather youthful fan base as his latest hit single, "If He Did it Before…Same God" holds steady in the top 10 on Billboard's Gospel chart. The hip hop and rock influenced song is a "testimony" to God's ability to resolve negative situations much like He has done in the past.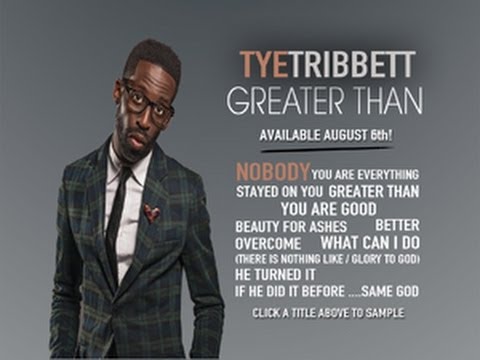 As the primary writer, arranger, and producer Tribbett works to infuse this album with a message that he considers a personal revelation—God is "GREATER than anything." Tribbett aims to address real human emotions like pain, fear, loneliness, and stress, but his ultimate goal is to emphasize that God is stronger than any issue. Each of the selections on this project elaborate on this same basic message, though the musical settings in which they appear are quite varied. For instance, the opening track, "Nobody" is a melodically simple, call and response styled song that manages to merge African American congregational worship music with a type of lively chant-cheering often heard from participants at major sporting events. The rhythm section (particularly drum kit) and horns are the driving forces of this selection, providing an infectious groove. Conversely, the album's title track represents a more thoughtful approach to exploring God's greatness. Instead of the short, punctuating phrases of "Nobody," "Greater Than" is much calmer with more elaborate text. Lyrical piano accompaniment during the verses of the song establish a more reverent, worshipful tone allowing listeners space to absorb the message "if our God is for us… nothing in this world could ever win…" These are just a few of the many sounds that Tribbett utilizes to share what he considers his God-given message on Greater Than.
Few gospel artists have risen to the level of notoriety of Stellar Award winning Tye Tribbett, and perhaps there is just cause. As his career evolves, he still manages to take simple messages, infuse them infectious beats, and deliver them in a straightforward manner.  While this album is a testament to that well-honed ability, I look forward to his next project being even Greater Than this.
Reviewed by Raynetta Wiggins