Title: Groovin' Hard – Live at the Penthouse 1964-1968
Artist: The Three Sounds
Label: Resonance 
Formats: CD, LP, digital
Release date: January 13, 2017
Title: Truth, Liberty & Soul – Live In NYC
Artist: Jaco Pastorius
Label: Resonance
Formats: CD, LP, digital
Release date: May 26, 2017
Resonance Records' George Klabin and Zev Feldman continue mining the world's vaults and closets and unearthing excellent-quality jazz recordings previously unissued as commercial albums.  Among their releases this year are albums by Gene Harris's  piano trio The Three Sounds recorded in Seattle in the 1960's, and a gala 1982 big-band fusion concert led by the late great bassist Jaco Pastorius and recorded by National Public Radio at New York's Avery Fisher Hall. The albums offer entertaining and excellent-sounding windows into two very distinct styles of jazz.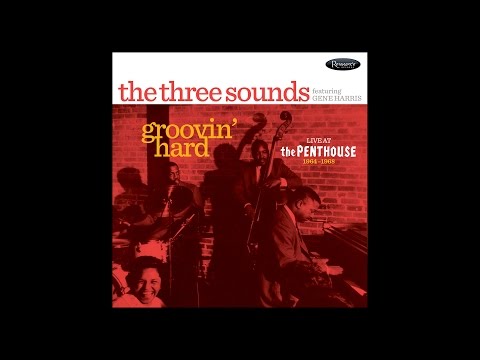 The piano trio (piano, bass and drums) was a stable of urban jazz bars in the post-WWII era, popularity peaking in the late 1950's through the 1960's. Famous piano trios were led by Erroll Garner, Ramsey Lewis, Oscar Peterson, among others. And there was also The Three Sounds, fronted by keyboard ace Gene Harris. Resonance's producers located and secured rights to a series of Three Sounds performances at The Penthouse club in Seattle, which were originally tape-recorded and broadcast over local radio. The performances feature Harris and bassist Andy Simpkins with different drummers present for each of the three different recording dates (1964, 1966 and 1968).
Musically, The Three Sounds hew more toward the jazz side of soul-jazz, as compared to Ramsey Lewis for instance, with the emphasis on a swinging groove. Harris was a skilled pianist, but he emphasized musicality over technical chops. He and his band mates were in sync and projected a logical and well-thought concept of how to play their way around their set lists. Album highlights include the Harris originals "Blue Genes," "Rat Down Front" and "The Boogaloo," plus covers of Neil Hefti's "Girl Talk" and Johnny Mandel's "The Shadow of Your Smile" that avoid stereotypical schmaltz traps and groove along nicely.
Jaco Pastorius was a self-taught and revolutionary bassist (for more on that, check out the documentary film "Jaco"). He gained fame as part of fusion-jazz mega-stars Weather Report, but left the band in 1981 and formed an ensemble he called the Word of Mouth Band. An expanded version of that group performed at Manhattan's Avery Fisher Hall on June 27, 1982 as part of the Kool Jazz Festival, and the performance was recorded by National Public Radio's "Jazz Alive!" program. The Resonance 2-CD release includes 40 minutes of music not included in the original broadcast.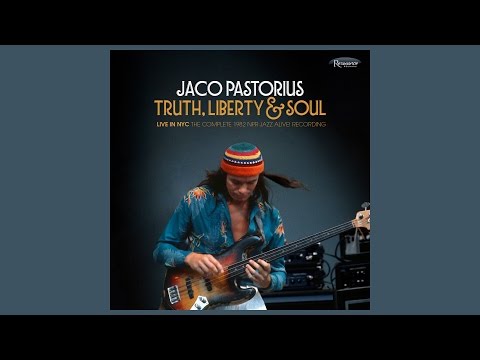 For this performance, the Word of Mouth Band included members of the A-list of New York studio musicians, some of whom were familiar names as part of that era's "Saturday Night Live" band. Fans of the "Blues Brothers" movies will recognize names like "Blue" Lou Marini on tenor sax and Alan Rubin on trumpet. Plus, legendary harmonica player Toots Thielemans joined the band for seven numbers.
The big band that Pastorius brought on stage was very much of fusion jazz and of the early 1980s. It included Pastorius's electric bass (with heavy amplification and effects), steel drums played by Othello Molineaux, tuba player David Bargeron, percussionist Don Alias, plus six sax-men, six trumpets, three trombones and two French horns. In the drum seat was Pastorius's former Weather Report bandmate, Peter Erskine.
One of the reasons Pastorius left Weather Report was an on-going disagreement with band founder Joe Zawinul about how far the band should move toward electronic effects and synthesizers. Although much younger than Zawinul, Pastorius favored an approach closer to jazz's acoustic traditions. His vision, as presented with the Word of Mouth Band, is modern and somewhat electrified, but firmly rooted in traditional large-ensemble jazz. It's no accident, for instance, that the band presents a very recognizable cover of Duke Ellington's "Sophisticated Lady." As far as fusion-jazz style, this band favors Latin and funky flavors as opposed to the slicker and somewhat disco-esque music of later-era Weather Report.
Even though the ensemble is large and some of the arrangements are dense, the playing is flawless. Engineer Paul Blakemore, who made the original recording for NPR, returned to his multi-track tapes and remixed the concert, the result being superb, punchy and detailed sound.
Both of these albums are the latest examples of Resonance's emphasis on quality music above all else, followed closely by quality recordings. As is always the case with Resonance releases, both albums feature hefty booklets full of details about the musicians, performances' times and places and producer Feldman's always entertaining tales of scouring the vaults and closets to find the hidden jazz gems.
It's interesting listening to these albums back-to-back, noting the different times and places, and the very different styles of music included in the big tent of jazz. In a modern context, the Pastorius concert is an afternoon on the deck with friends, beer, chips and salsa – fun, bright and energetic. The Three Sounds club dates go well with an adult beverage, low light and a comfortable chair – engaging and relaxed but never dull.
Reviewed by Tom Fine