Title: Concrete Gardens
Artist: Tony MacAlpine
Label: Sun Dog
Formats: CD, Special Ed. CD + DVD, digital (MP3, AAC, Apple Lossless, FLAC)
Release date: April 24, 2015
Guitar shredder extraordinaire Tony MacAlpine is back with his twelfth solo studio project, Concrete Gardens, and it's everything we've come to expect from this classically trained, heavy metal-leaning musician.  Equally at home on piano, he covers both instruments plus bass on the album, in addition to composing all of the music. Like his previous solo outings, this is an instrumental rock opus, supported by Brazilian drummer Aquiles Priester, with assistance from bass players Pete Griffin, Sean Delson, and Lucky Islam, plus a guest appearance from guitarist Jeff Loomis.
Two years in the making, the album doesn't disappoint. MacAlpine, known for his use of 7 and 8-string guitars and impeccable technique, cites a variety of influences, including the great Wes Montgomery (he even portrayed Wes in the 2008 movie Crazy).  His technique is on full display in the aptly-titled opening track "Exhibitionist Blvd.", with its blazing arpeggios and flange effects, and continues at warp speed through "The King's Rhapsody" and "Man in a Metal Cage." MacAlpine finally allows us to come up for air in "Poison Cookies," a more melodic, mid-tempo progressive rock instrumental that's somewhat cinematic in character but no less virtuosic. Returning to heavy metal overtones on "Epic," Priester is given free rein on the drums, with MacAlpine turning up the heat for a blazing race to the finish.
MacAlpine switches over to piano for the intro to "Sierra Morena," but this is only the quiet before the storm, as the remainder of the song is an even more densely layered, crazily complex cacophony of guitar tracks. On "Square Circles," MacAlpine and Loomis battle for supremacy on one of the album's stand-out tracks. Another highlight is "Red Giant," which interjects Middle Eastern overtones in a manner that's meditative yet displays a definite thirst for power. On the title track, "Concrete Gardens," the shredding returns, interspersed with more melodic interludes: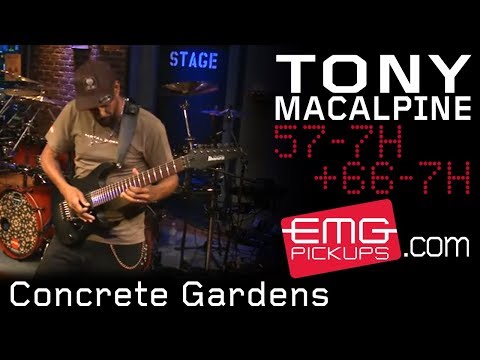 Fans of MacAlpine know he has a predilection for including at least one classical piano solo on his albums, and such is the case with the closing track, Franz Liszt's "Maiden's Wish" (after Chopin, Op. 71/1).  In a performance that's beyond admirable, MacAlpine shows himself to be a true Renaissance man, and perhaps the only guitar shredder in the universe who can also rock a Steinway.
The special edition (limited to 2000 copies) includes a DVD with a live performance of the album filmed by EMG TV, using a slightly different line-up that includes guitarist Nili Brosh. MacAlpine will be touring the U.S. throughout May and June in support of the album before heading to Europe. Catch him while you can—it will definitely be worth your while.
Reviewed by Brenda Nelson-Strauss