Title:  The School of Arizona Dranes: Gospel Music Pioneer
Author: Timothy Dodge
Publisher: Lexington Books
Formats: Book (hardcover, 206 p.), eBook
Release date: September 12, 2013
While the sounds of gospel music have touched the ears and hearts of peoples all over the world, research on the subject still has a good deal of ground to cover. Several texts, autobiographies and biographies, have been written which expose the significance of the lives of gospel music pioneers like Thomas Dorsey, Shirley Caesar, and Kirk Franklin. However, many key figures and developments of the genre remain largely undocumented. In his text, The School of Arizona Dranes: Gospel Music Pioneer, Auburn University reference librarian Timothy Dodge attempts to address the early history of gospel music by exploring the life and influence of this largely unknown pioneering gospel pianist and vocalist.
Over the course of seven chapters, Dodge not only presents a biography of Arizona Dranes (who was blind nearly from birth), but strongly emphasizes the ways in which the historical context in which she lived shaped her career and influence. Using census records, historical governmental documents, personal correspondences with her record company Okeh Records (from the Arizona Dranes Papers at the Archives of African American Music and Culture at Indiana University), and secondary sources, he outlines the contours of her life. His discussion ranges from her childhood to her involvement with the growth of the Church of God in Christ (COGIC), her "epochal" recordings in the 1920s, her work as a traveling missionary and her eventual obscurity and death in Los Angeles, California.
While she may have received some formal training in a school for the blind, it was her encounters with secular and sacred black music styles that allowed Dranes to develop her own distinctive style—here called the "gospel beat." Dodge suggests that her recordings are the first to feature this unique sacred musical sound, making Dranes' work an important catalyst for what later became known as gospel music. Following is her 1926 rendition of "Lambs Blood Has Washed Me Clean," described by Dodge as "one of Dranes' most visceral recordings and one that fully captures the sound of a Pentecostal workship service":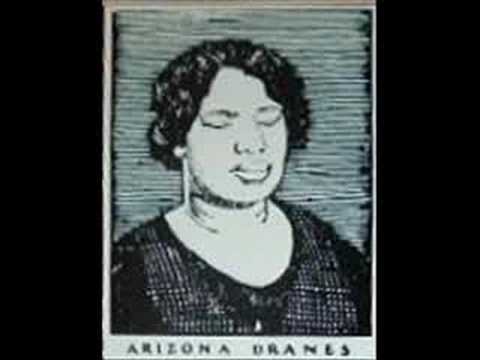 Dodge goes on to devote significant space to discussing the black sacred music Dranes work in the context of the Pentecostal movement which sparked in the early 1900s and spread throughout the United States. Dodge then turns his attention to early black sacred music and the recording industry and ends the text identifying artists like Rosetta Tharpe and Thomas Dorsey that he considers students in the "School of Arizona Dranes."
In many ways, Dodge is successful in reaching his goal of presenting a general sketch of Dranes' life and the sociocultural context in which she lived. He argues that Dranes' career and impact was a direct result of religious spaces she frequented as well the technological and economic climate of her day.  For instance, he indicates that the Pentecostal church nurtured spaces for the participation and leadership of women that were usually unavailable elsewhere. In conjunction with the increasing influence of the radio and recording industry, her religious affiliations allowed her to gain notoriety within the Black religious world. Dodge is also effective in his attempt to trace an actual musical lineage of Dranes' piano and vocal style. He offers several specific musical examples of artists from the 1920s to the 1970s (including persons like Mahalia Jackson's pianist Mildred Falls to the duo the O'Neal Twins) that he recognizes as being directly or indirectly influenced by Dranes' live performances and recordings.
Conversely, some of the same elements that make this text engaging may also detract from its effectiveness.  As the author acknowledges, the lack of concrete sources that directly recount the details of Dranes' life causes him to use a healthy dose of speculation about her circumstances, choices, and movements. This lack of information also results in a significant portion of this text focusing on the historical context in which she lived rather than her specifically.  Secondly, drawing on the work of musicologist Horace Boyer, Dodge discusses Dranes' innovation of a rhythmic barrelhouse inspired piano style referred to as the "gospel beat." Drane's "gospel beat" would become a key element in the sound of gospel music. However, in the text, the musical elements that create the "gospel beat" remain a bit unclear. This is not to say that Dranes did not introduce a new sacred music sound to her listeners, but rather it would have been helpful if the crucial dimensions of that sound (or beat) were described more explicitly in this text.
Though not perfect, The School of Arizona Dranes attempts to elevate one of gospel music's largely overlooked heroines. It offers plenty of food for thought concerning Drane's musical legacy even as gospel music continues to develop in the 21st century. Likewise, the text also serves as an invitation to gospel music lovers to take a second look and listen to the music and people that changed the sound of worship music and subsequently popular music in the U.S. and beyond.
Reviewed by Raynetta Wiggins
[1] In his text, How Sweet the Sound: The Golden Age of Gospel, Boyer outlines a musical definition of the "gospel beat" that is slightly clearer.