Title: Afro Physicist
Artist: Theo Croker
Label: DDB/OKeh Records
Formats: CD, MP3
Release date: May 20, 2014
Theo Croker is not only following in the footsteps of his grandfather, the legendary Doc Cheatham, by mastering the trumpet, but he also displays the same inherent ability and determination to master multiple musical styles. Though Croker has released two previous albums, a long sojourn in Shanghai has kept him from the public eye in the U.S.  Now the 29-year-old musician has returned to the country of his birth and is poised for a major breakthrough with Afro Physicist, released on Dee Dee Bridgewater's DDB Records via Sony's OKeh label. The two musicians met at the Shanghai Jazz Festival in 2009 and the following year began planning this album. On Bridgewater's advice, Croker used the opportunity to reach beyond traditional jazz, infusing his project with elements of soul, hip hop, funk and R&B.
The album opens with the contemplative "Alapa," a solo trumpet homage to Doc Cheatham that clearly demonstrates Croker's dexterity and skill with phrasing and tonal colors. This segues into the searing soul jazz track "Realize," with Croker riffing over a steady groove laid down by drummer Karriem Riggins, keyboardist Sullivan Fortner and bassist Michael Bowie. Croker's original composition, "It's Not You, It's Me (But You Didn't Help)," features an interplay between trumpet and alto flute (performed by Irwin Hall) that reflects a real life relationship slightly out of sync. On his genre-blurring "Light Skinned Beauty," Croker explains his idea as "[throwing out] three genres with the same harmony and vibe all the way through but with stuff changing over the surface – hopefully one line will stick!":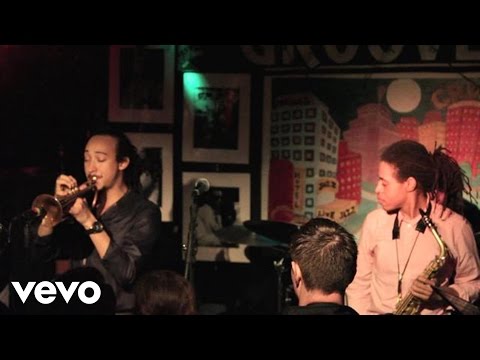 Other notable tracks on the album include three covers from different eras and genres, all featuring Bridgewater on vocals:  "Moody's Mood For Love" (after the classic James Moody instrumental), "Save Your Love For Me" (a hit for Nancy Wilson in 1962), and a scat heavy rendition of Michael Jackson's "I Can't Help It" from Off the Wall. Other guests include vibraphonist Stefon Harris, who pairs up with Croker on a cover of Stevie Wonder's "Visions," and the great Roy Hargrove performing his own composition "Roy Allan." The soulful closing track "Bo Masakela," composed by Caiphus Semenya in 1965, pays tribute to South African trumpeter Hugh Masakela.
Afro Physicist clearly establishes Theo Croker as a man in command of his trumpet and jazz idioms. And like a true physicist, he can deftly interweave subatomic particles from various genres into the jazz universe without violating any fundamental principles.
Reviewed by Brenda Nelson-Strauss