Title: Freedom Highway Complete
Artist: The Staple Singers
Label: Legacy
Formats: CD, LP, MP3
Release date: March 3, 2015
At a time when social, racial, and political upheaval continues to leave many in the U.S. (and in countries around the world) uneasy, the year 2015 also offers an opportunity to reflect on the complex dimensions of our history as well as the possibilities of our future. The year 1965 was pivotal in the decades-long crusade known as the Civil Rights Movement. After being systematically denied access to voting, national leaders of the movement joined forces with local leaders and community members to stage protests in the town of Selma, Alabama—a location known to deny African Americans the right to vote. The group planned a 5 day, 54 mile march to the state capitol in Montgomery, Alabama, to demand unhindered access to the polls. Their first attempt on March 7 was soon to be called "Bloody Sunday," as 600 marchers were stopped at the Edmund Pettus Bridge by armed local white citizens and police who brutally beat protesters. After their second "symbolic" march ended at the bridge, protesters marched again on March 21, this time escorted on their journey to Montgomery by US Army Troops, the Alabama National Guard, and FBI agents. This large scale protest alongside continued efforts in local and national arenas helped to secure the passage of the Voting Rights Act, signed by President Lyndon B. Johnson in August 1965.
In commemoration of the 50th anniversary of these events, Legacy Recordings has re-released an album recorded by renowned gospel (and later soul) music performers, the Staple Singers, titled Freedom Highway Complete: Recorded Live at Chicago's New Nazareth Church. In April 1965, this family group (including Roebuck "Pops," Mavis, Pervis, Cleotha, and Yvonne), inspired by the marches, participated in a service at their local congregation, New Nazareth Church in Chicago. Freedom Highway features a re-mastered version of the concert including several previously unreleased or extended tracks that help establish the communal and occasionally playful tenor of this worship service.  Mobile recording was still a relatively new concept at the time that this event was captured, making for some occasionally uneven sound levels. However, the energy and movement of the service remain abundantly evident.
Pops Staples begins the service by inviting audience members to participate in worship, as well as acknowledging particular vocalists and instrumentalists including the New Nazareth Baptist Choir and L. C. Cooke, brother of the late soul music pioneer, Sam Cooke. The concert offers an interesting mix of original compositions, Civil Rights "freedom" songs, and popular gospel pieces of the day, all of which point to the urgency of "living right" and putting belief into action. The Civil Rights anthem, "We Shall Overcome," receives enthusiastic audience participation with singing, hand clapping, and verbal affirmation – as it was a popular galvanizing device in Civil Rights Movement at marches and protests. Inspired by the brilliance and bravery of those who participated in the Selma to Montgomery march, Pops penned the album's title song "Freedom Highway." He explains, "From that march, words were revealed, and a song was composed." His piece does not focus on the dream of freedom heard in "We Shall Overcome." Rather, it critiques racially motivated injustices and killings and encourages freedom fighters to persevere until social and political equality are achieved. Mavis as the lead singer assertively declares, "Found dead people in the forest/ Tallahatchie River and lakes/ Whole world is wonderin'/what's wrong with the United States?/ Yes we want peace/ if it can be found/ marching freedom highway/ and I'm not gonna turn around!"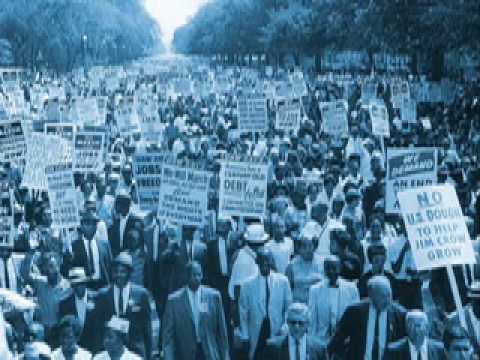 The gospel selections focus primarily on 1) soliciting divine assistance from God to overcome earthly struggles and/or 2) anticipation of heaven and the afterlife. For instance, Mavis performs gospel pioneer Thomas Dorsey's famous piece "Take My Hand, Precious Lord," with Pops and the other group members providing background vocalizations in the form of harmonized, swooping "oohs." In this selection, Mavis pleads for God's assistance and guidance in her journey to her ultimate destination, "home." Unlike many performances of this song, the Staples Singers' version features no piano or organ; rather, it has a slow-rocking country gospel sound primarily accompanied by Pops' acoustic guitar. The relevant lyrics and Mavis' passionate delivery resonate with listeners who adamantly encourage her, "Sing the song, Mavis!" The themes of death and heaven are even more prevalent in songs like "When I'm Gone," "When the Saint Go Marching In," and "View that Holy City," "What You Gonna Do?" and "Tell Heaven." These selections are introspective celebrations of the difficulties and joys of life. They invite listeners to think carefully about their beliefs, actions, and legacy because one's decisions have repercussions both in the afterlife and in the present-day.
One of the most engaging elements of this album is the inclusion of gospel sermonettes by Pops Staple. For example, "Help Me Jesus" features Pops reminiscing about his experiences of the music of church services in rural Mississippi. His storytelling is expertly undergirded by improvised guitar picking and by Mavis and her siblings as they interject deep colorful moans. The group brings the story to life by zealously yet intensely singing quotations of the songs that he mentions including "Amazing Grace," "Father, I Stretch My Hands to Thee," and "There's a Leak in This Old Building." Using music to recall the migration journey of many African Americans living in Chicago at this time, Pops initiates a collective remembering of the sights and sounds of worship "down home."
Freedom Highway Complete is an excellent snapshot of the ways in which faith and freedom fighting often interwove during the Civil Rights Movement. At a time of deep social unrest, many church leaders, artists, and community members took deliberate action to effect positive change. The Staple Singers joined these ranks, often using music to challenge systems of oppression while asserting their spirituality and humanity. Beyond its artistic merit, Freedom Highway is an important historical document of the multifaceted social, political, cultural, and economic struggle to end injustice in the U.S. The Staple Singers' messages continue to resonate today, encouraging all who are listening (even 50 years later) to keep "marching up freedom highway."
Reviewed by Raynetta Wiggins