Title: Poetry in Motion
Artist: The Soul Rebels
Label: Rebelution Music Group/Artistry Music/ Mack Avenue
Formats: CD, LP, Digital
Release date: October 25, 2019
New Orleans based ensemble The Soul Rebels was formed in the early '90s by drum majors from HBCUs such as Southern, Grambling, and Texas Southern University. Percussionists Derrick Moss and Lumar LeBlanc, who first met as members of Harold Dejan's Young Olympia Brass Band, decided they wanted to play the rap music they were hearing on the radio while also respecting the long tradition of the New Orleans brass bands and marching bands they had played in growing up. Now an eight member brass/jazz/hip hop powerhouse, The Soul Rebels include LeBlanc (snare drum) and Moss (bass drum), in addition to Marcus Hubbard (trumpet), Erion Williams (saxophone), Paul Robertson (trombone), Julian Gosin (trumpet and MC), Manuel Perkins Jr. (sousaphone) and Corey Peyton (trombone and MC). For their latest album, Poetry in Motion, The Soul Rebels started with the premise "no genre is off limits for us," and concluded with twelve tracks that sound contemporary and hip. Their New Orleans rhythms and Black college band attitude combined with rap lyrics and rhymes will make you move your feet and get out of your seat.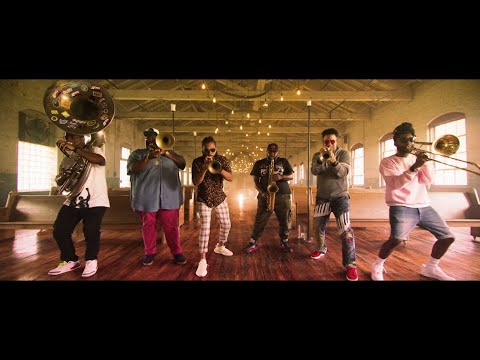 The album opens with "Blow the Horns," which might be considered a theme song with its epic horn line and celebratory rapping about "making history" courtesy of Passport P, Julian Gosin and Sean Carey. Other highlights include The Soul Rebels collaboration with Grammy award winning New Orleans-born artist PJ Morton on the song "Slide Back" and the Latin jazz tune "Sabor Latino" featuring Trombone Shorty. There are also collaborations with other notable artists such as Robert Glasper performing Rhodes piano on the title track "Blush: Poetry in Motion," which is a beautiful musical and lyrical piece also featuring singer Tarriona 'Tank' Ball from the very well-known New Orleans band "Tank and the Bangas." Additional guests include Branford Marsalis on "Rebellious Destroyer," Big Freedia on "Good Time," and an all-star cast of NOLA artists including Kermit Ruffins, Mia X and Cheeky Blakk who contribute to "Down For My City."
Poetry in Motion is the Soul Rebels first attempt at using drum machines, experimental production techniques and opening the process to co-writers and co-producers. "We really opened the door to taking the brass ensemble and sound to a contemporary and very modernized musical place…. In the past we've treated our albums like private and personal projects with no one involved in our process" explained Julian Gosin. This album certainly pushes the envelopment, bringing together various elements of black music not typically combined with hip hop production techniques and creating a project that is literally and figuratively Poetry in Motion.
Reviewed by Bobby E. Davis Jr.