Title: The Richmond Sessions
Artist: The Sherman Holmes Project
Label: M.C. Records
Formats: CD, MP3
Release date: July 21, 2017
This remarkable release is the first for Sherman Holmes since the passing in 2015 of both his brother and bandmate, Wendell Holmes and Popsy Dixon of the Holmes Brothers. Despite these somber circumstances, this uplifting project is a dedication to both the Holmes Brothers and the Americana music that brought the band together and sustained their career for over 50 years. Produced by Jon Lohman of the Virginia Folklife Program at the Virginia Foundation for the Humanities and recorded at Montrose Studios in Richmond, The Richmond Sessions is a collection of bluegrass, gospel, blues, and traditional songs that represent the roots of Holmes' extensive musical career.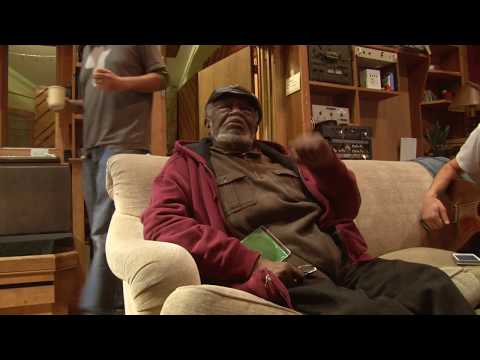 Originally from Christchurch, Virginia, the Holmes Brothers formed as a trio after years of performing the Chitlin' Circuit. They are known for their eclectic blend of southern American genres supported by Wendell Holmes' effortless electric guitar playing, Popsy Dixon's drum work and falsetto voice, and Sherman Holmes's deep resounding bass. In 2014, they were honored with a National Endowment for the Arts National Heritage Fellowship after working with the Maryland Traditions Apprenticeship Program, and from 2014-2015, they participated in the Virginia Folklife Apprenticeship Program where they mentored a new generation of musicians, passing on cultural knowledge and musical techniques. The Sherman Holmes Project took shape shortly after Holmes performed "I Want Jesus" at the Virginia Apprenticeship showcase in memory of the Holmes Brothers, a beautiful blues traditional song featured on this album.
Several accomplished artists are featured on the Richmond Sessions including the Ingramettes singing backup vocals, Dobro player Rob Ickes, banjoist Sammy Shelor, and multi-instrumentalist DJ Harrison. Special guest Joan Osborne sings alongside Holmes on "Dark End of the Street" while "Breaking Up Somebody's Home" brings the studio band together for a three-minute instrumental jam. Many of the recorded songs are favorites of Holmes, such as Creedence Clearwater Revival's "Green River" and Vince Gill's "Little Liza Jane." Other tracks feature songs the Holmes Brothers once performed together, such as "Homeless Child" and "Rock of Ages."
Produced by the Virginia Foundation of the Humanities, The Richmond Sessions genuinely represents a public appreciation for the music and memory of the Holmes Brothers as Sherman continues to perform and record music. Sherman Holmes will be performing at various festivals this summer and fall; check his website for tour dates/locations.
Reviewed by Jennie Williams