Title: The Journey
Artist: Andraé Crouch
Label: Riverphlo
Formats:  CD, Deluxe Ed. CD + DVD, MP3
Release date:  September 27, 2011
While Edwin and Walter Hawkins are rightly credited with ushering in the era of contemporary gospel music with their release of "Oh Happy Day" in the late 1960s, the musical innovations of Andraé Crouch would help propel this new style of music to unforeseen heights with a large crossover appeal. Crouch has worked in gospel music for nearly five decades and is rightly referred to as a gospel music legend. This eight-time Grammy award winner has recorded at least twenty albums both solo and with his group The Disciples. He has worked with highly acclaimed musicians like Quincy Jones and Michael Jackson. Crouch has also worked in film and television as a composer and as choral director for productions such as Disney's The Lion King. Beyond working in music, he also a co-pastor of New Christ Memorial Church where he serves with his twin sister Sandra Crouch.
Five years after his last solo project Mighty Wind, Crouch greets listeners with his latest endeavor The Journey. Produced by Luther "Mano" Hanes, this album truly embodies his musical journey. In this seemingly eclectic collection of songs, it is possible to sample the sounds and innovations that have made him a much loved and respected songwriter and artist in the music industry. The Journey travels through a range of stylistic influences from ragtime to funk, rock, and R&B. With an all-star list of featured guests alongside insightful lyrics and superb instrumentation, this album has honestly reinvigorated my love of gospel music.
The Journey opens with the heavy-hitting instrumental introduction to "Somebody Told Me About Jesus." Featuring vocalist Tata Vega, this high energy funk and rock-infused selection is reminiscent of some of Crouch's gospel hits from the 1970s such as "Just Like He Said He Would." However, like a true artist, he has been able to tastefully embrace change. This song includes an "updated" sound with contemporary instrumental riffs and syncopated expressive backing vocals that have been an essential element of Crouch's distinctive sound.
Crouch teams up with Chaka Kahn and percussionist Sheila E. to create the beautifully executed musical complexity featured in "All Around the World." This song is perfectly tailored for Chaka's voice and style with a prominent electric guitar, punctuating rhythms in the horns, and an underlying Latin derived rhythm. However, the voice is not the sole focal point of this piece; the instrumentalists are frequently highlighted and given freedom to improvise. "All Around the World" showcases the best of all three artists as Crouch's songwriting is synthesized with the powerful, textured voice of Chaka and the rhythmic finesse of Shelia E. to create a multidimensional musical experience.
Crouch also showcases his incredible ability to craft a ballad with the piece "Faith." Featuring the undeniable talents of Kim Burrell and the Grammy Award winning group Take 6, this song captures the emotion and longing of a person in search of a deeper level of faith to overcome life's difficulties and grow closer to God. Lyrically, "Faith" is rather simple with often repeating text, such as "without faith it's impossible to please the Lord." However, Burrell subtly infuses the melody with colorful melismas and dynamic contrasts to articulate the breadth and depth of this story.
Despite its contemporary thrust, Crouch and Hanes have not neglected to include some traditional styled selections on this album. "Heaven Bound," featuring Rance Allen, is an up-tempo traditional gospel quartet influenced piece. Allen is true to form making full use of falsetto flourishes and throaty growls which have been integral to his distinctive style. In contrast to many of the selections on this album, this song features simple instrumentation with an electric guitar and drum kit acting as the primary accompaniment. Similarly, the textual structure recalls an earlier style of gospel (and even blues) in which the chorus consists of variations of a repeated line of text. The element of call and response between leader and ensemble further situates "Heaven Bound" in a down home, church service.
Similarly, The Journey's hit song "Let the Church Say Amen" is a traditional gospel choral piece featuring Marvin Winans. The warm tones of the electric organ set the stage for this slow meditative piece that would be a perfect response to a poignant sermon. Winans seems to echo this sentiment in his choice to perform this selection at the end of the eulogy he delivered at the funeral for the recently deceased vocal legend Whitney Houston. With its basic chordal structure and repeated phrases, "Let the Church Say Amen" encourages audiences to sing along while contemplating these powerful words.
Following is the official video for another track on the album,"The Promise":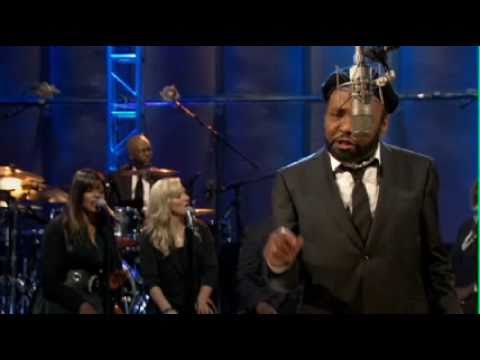 The Journey was nominated for a Grammy in the Best Gospel Album category but lost to another excellent album, Kirk Franklin's Hello Fear. However, this project has been nominated for three Dove Awards including Traditional Gospel Recorded Song for "Let the Church Say Amen" and Contemporary Gospel Recorded Song for "The Promise." There is still hope that Crouch and Hanes will receive industry recognition for their work.  Whatever the outcome, this project is nothing short of musically innovative and lyrically inspiring. It beautifully articulates the ways in which gospel music can transform and grow while maintaining some of its essence and expression. At a time when it appeared that gospel music may be teetering on the edge of monotony, a legend returned and has encouraged our hearts and ears to listen once again.
Reviewed by Raynetta Wiggins