Title: The Complete Blue Cat Recordings
Artist: The Ad Libs
Label: Real Gone Music
Catalog No.: RGM-0050
Formats: CD, MP3
Release date: May 1, 2012
The Ad Libs were a doo-wop band out of New Jersey that recorded in 1964 and 1965 for Jerry Leiber and Mike Stoller's Blue Cat Records.  They had a hit in March, 1965 with "The Boy From New York City," featuring the fine voice of lead singer Mary Ann Thomas.  The song was later covered by, and was a hit for, the Manhattan Transfer. They made a few other musically interesting singles, but did not enjoy further chart success.
So why does this group merit its own CD, indeed nearly 80 minutes that apparently includes every scrap of tape run during Ad Libs sessions for Blue Cat Records? The answer doesn't lie in the group's previously released singles and B-sides, collected together here for the first time. It's in the previously unreleased a cappella demos for many of those songs and some other songs never recorded with a backing band.  These demos are a how-to master class in New York doo-wop soul singing. In this age of auto-tuning, double-tracking and other voice-"fattening" or "fixing" tricks, it's refreshing to hear one woman and four men sing together, unaccompanied, and never miss a beat, a note or a harmony.
Where the listener may decide "that's enough" is toward the end of the disc, where producer Ron Furmanek threw in the proverbial kitchen sink—alternate takes and even the backing track of the group's one hit, "The Boy From New York City," sans vocals.  The completist collector will appreciate a one-stop source of every scrap of Blue Cat Records tapes of the Ad Libs, and the rest of us can just hit the STOP button after the a cappella demos.
The Ad Libs' original commercial releases are worth special mention.  The group had a consistently interesting sound and Thomas's singing just got better during their short Blue Cat stint.  Standout songs are "Kicked Around," which was the B-side of their hit, and "On the Corner." Also noteworthy are two songs recorded on March 10, 1965, but never released on Blue Cat singles: "The Slime" (penned by Lieber and Stoller) and "You'll Always Be in Style," which includes a nice use of Latin percussion and horns.
The following Youtube video shows the cool Blue Cat 45 single for "Kicked Around" and provides a taste of the Ad Libs' music, but the sound is way better on this reissue CD: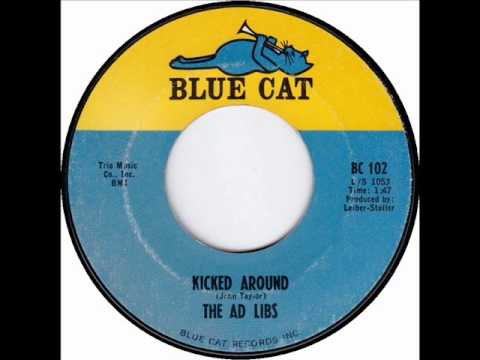 Producer Furmanek deserves kudos for his stereo remixes, which bring out the excellent sound quality captured by original engineers Phil Ramone and Brooks Arthur. In the end, this CD resurrects a snapshot of a small corner of the peppy, poppy and highly competitive mid-60's New York City music scene.
Reviewed by Tom Fine