Title: Tassili
Artist: Tinariwen
Label: Anti Records
Formats:  CD, MP3
Release date:   August 30, 2011
==========================
Tinariwen's fifth album, Tassili, moves beyond their romantic image of Touareg rebels armed with electric guitars and machine guns, to a more bare and vulnerable sound with the help of acoustic instrumentation and guest musicians from American rock bands TV on the Radio, Wilco, and the Dirty Dozen Brass Band.
Tinariwen front man Ibrahim Ag Alhabib has long cast a legendary shadow on the group, originally founded in a Libyan military training camp. Tinariwen's music reflects the unique exile experienced by Touareg nomads forced into a sedentary lifestyle by oppressive central governments, which has led to a perception of the group as exoticized rock stars who stand out due to their traditional dress and foreign background. It would be a grave mistake, however, to think of Tinariwen as a novelty act. Putting the intriguing backstory aside, they have managed to produce consistently great records, with Tassili bringing their music to even more fantastic heights.
The simplicity of the music on this album is hypnotic, with repetitive, yet complex, interweaving guitar lines that lull the listener into a comforting trance.  The lack of electric instruments is not the only familiar Tinariwen trait that is missing—the album is also notable for its lack of female voices, something long-time Tinariwen fans may find surprising. While I have always loved the female vocals from this band, the combination of acoustic instrumentation and collective, male singing brings my mind back to the earliest days of the band, as rebels in their military camp.
The following video for the single "Tenere Taqhim Tossam" features TV on the Radio's Kyp Malone on guitar, with Tunde Adebimpe singing the chorus in English: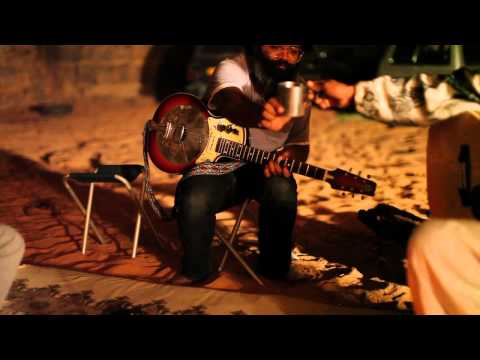 As the band has aged, their lyrics have become more personal and more introspective, but this album, even with its unique circumstances, sounds like they have not changed at all.
Reviewed by Dorothy Berry