Title: Legacy: Violin Music of African-American Composers
Artists: Tami Lee Hughes, violin; Ellen Bottorff, piano
Label: Albany
Formats: CD, MP3
Release date: August 1, 2011
A new collection that challenges simplistic notions about what it means to be an African American composer of classical music, this album contains an eclectic group of pieces for violin and piano. Its selections arch across nearly two centuries and include some works that explicitly draw on Black musical idioms and some that do so more subtly, or not at all. The performers, faculty members at the University of Kansas, skillfully interpret this wide range of styles and eras. Composers represented include Francis [Frank] Johnson, George Morrison, David N. Baker, Ozie C. Cargile II, and Chad "Sir Wick" Hughes. Particularly exciting is that the album captures voices from the past as well as presenting the work of three living African American composers.
Although the album proceeds in chronological order, it also replicates the sensation of attending a well-programmed concert. Johnson's brief and peppy "Bingham's Cotillion" (1820) functions rhetorically as an overture. Next come two weighty, multi-movement pieces: Morrison's "Five Violin Solos" (1947) and Baker's "Jazz Suite" (1979). Here the album's narrative trajectory culminates as the two lengthy works demonstrate different approaches to engaging with Black musical traditions. Morrison's "Solos" are simple settings of four spirituals (plus an original lullaby), while Baker's pungent "Jazz Suite" subtly riffs on elements of jazz style and heritage without literally arranging extant melodies. Two brief, single-movement pieces in contrasting tempi and moods conclude the album: Cargile's "Mixed Feelings" (2000) and Hughes' "S.L.I.C.E." (2009).
Each piece represents a sonic snapshot of a moment in American musical history. Johnson's sprightly "Cotillion" evokes upper-crust social dancing of the early nineteenth century, a scene the Black bandleader, violinist, and bugler dominated in Philadelphia. On hearing the piece, one imagines the vibrant social pageantry that accompanied it, along with the reverence Johnson was accorded (one contemporary called him "the presiding deity" of such social affairs, and "an important personage, certainly!"). Morrison's slow, sparse settings of "Motherless Child" and "Steal Away," on the other hand, recall the postbellum tradition of spirituals arranged for solo voice and piano, with the violin standing in for the voice. Morrison was also a dance-band leader in Colorado in the swing era; this legacy is foregrounded in his raucous, rhythmic setting of "Every Time I Feel the Spirit." And Baker's "Jazz Suite" calls forth, retrospectively yet in a progressive voice, a kaleidoscopic range of jazz styles: boogie-woogie, bebop, and Afro-Caribbean influences.
This wide range of repertoire is performed convincingly by the duo, who move from a clean, brilliant, "dry" approach in the "Cotillion" to a lush, resonant sound in sonorous pieces such as Cargile's "Mixed Feelings":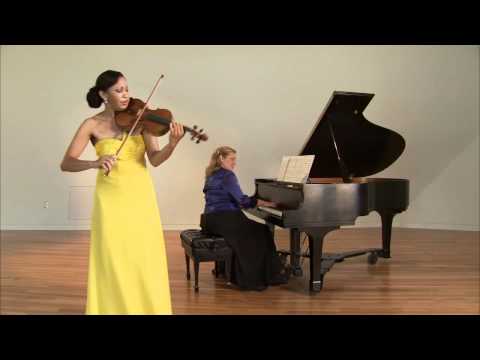 The album's excellent audio quality is marked by immediacy, clarity, and balance. Thanks to the Center for Black Music Research at Columbia College Chicago, the album's liner notes (by Horace Maxile, Jr.) are thorough, presenting biographical data and images, a discussion of each work's significance, and brief listening guides. This album, unique for its chronological range, stylistic diversity, performance quality, and focus on rarely-recorded chamber works, constitutes an important addition to any collection of art music by African American composers.
Reviewed by Carrie Allen Tipton