Title: Planetary Prince
Artist: Cameron Graves
Label: Sterling Silver Productions
Format: CD
Release date: June 10, 2016
Perhaps best known for their participation on Kamasi Washington's monumental LP The Epic (released in May 2015), the West Coast Get Down collective of jazz musicians returns on pianist Cameron Graves's latest project, Planetary Prince. Led by Graves and featuring Washington, Stephen "Thundercat" Bruner, trombonist Ryan Porter, drummer Ronald Bruner Jr, and non-West Coast Get Down musicians trumpeter Philip Dizack and bassist Hadrien Feraud, Planetary Prince makes a strong argument for West Coast players being on the cutting edge of progressive jazz.
Recorded in a marathon 11-hour session (with a second volume coming later this year), the compositions on Planetary Prince feel like jazz odysseys in miniature. The record's shortest cut clocks in at 8 minutes, while the three remaining tracks are each longer than 10—not the length of most of Bitches Brew, but not small potatoes either.  These tracks give the musicians plenty of time to stretch out, exploring the cosmic themes implicit in the album's title, with tunes derived from The Urantia book, a volume of esoteric religious philosophy.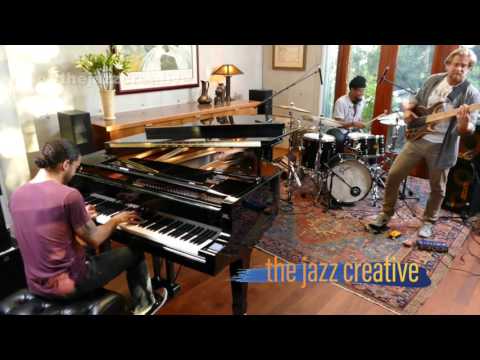 Graves and company are obviously well-versed in a number of musical styles, from the modern Coltrane-influenced jazz that permeates this record, to fusion (Graves's other gig is with the pioneering bassist Stanley Clarke's band), to classical music (he's done soundtrack work too), to hip hop (as evidenced by Washington and Thundercat's work with Kendrick Lamar and Snoop Dogg), to heavy metal (including Graves's participation in Jada Pinkett Smith's nu-metal band Wicked Wisdom).  While it is difficult to see how each of these influences come to bear on this record at any individual moment, it is possible to hear the group's fearless virtuosity as a consequence of being so well-versed—if you're good at everything, it's hard to find anything off limits.
The titular first track features a tight drum groove punctuated by Bruner's in-the-pocket fills underneath Graves's blistering piano solo, with the band momentarily becoming a tight jazz-rock trio before Washington enters with a solo that evolves from sparse to space-filling, playing with time like other players might play with changes.  "Andromeda" manipulates musical atmospheres—combining minimal accompaniment with soaring melodies, the tune derives much of its interest from its shifting textures and flowing melodies. "Isle of Love," propelled by a lilting piano ostinato over which the band's improvised and composed melodies swirl, indicates Graves's prowess as a composer/arranger, and "Adam & Eve" is downright cinematic, growing from concert piano flourishes to double (sometimes triple) timed bebop lines over a half-time groove worthy of the heaviest metal.
Overall, Planetary Prince is a strong release by a leader and supporting cast of players who are pushing jazz into a thoroughly modern, inescapably hip direction.  This group's blend of cosmic themes, hip compositions, monster playing, and intricate textures makes for what will assuredly be some of the year's best jazz.
Reviewed by Matthew Alley
.