Title: République Amazone
Artist: Les Amazones d'Afrique
Label: Real World Records
Formats: CD, LP, MP3
Release date: April 28, 2017
Les Amazones d'Afrique describe themselves as the "first all-female supergroup of West Africa," a group of women with unique backgrounds and voices making music and fighting for gender equality. Their debut album, République Amazone, is out at the end of the month on Real World Records. Produced by Liam Farrell, who has worked with such artists as Tony Allen and Mbongwana Star, the album is edgy with industrial, electronic sounds and vocal effects interwoven with traditional instrumentation and a variety of languages (English, French, Bambara, and Fon).
Of the seven members, all hail from Mali where the Les Amazones d'Afrique project began, with the exception of Benin native and multiple Grammy-award winner Angelique Kidjo and the young soul singer Nneka from Nigeria. The name of the group is inspired by the Dahomey Amazons—"a legendary sub-Saharan band of female warriors highly-trained and armed to defend the Kingdom of Dahomey, in what is now modern-day Benin," according to the extensive liner notes by Charlie Brinkhurst-Cuff, a writer and the opinions editor at gal-dem, a feminist magazine produced exclusively by women of color.
Though Les Amazones d'Afrique are most certainly warriors for women, they use the album's first single, "I Play the Kora" to directly ask men to join them in the fight for equality:
You men must support us
For we women need you
We are tired to fight alone
The title of the track is symbolic, since women were traditionally not allowed to play the kora (a harp-like instrument native to West Africa). True to their stated mission, all the proceeds from the single will benefit The Panzi Foundation, a foundation and hospital in the Democratic Republic of Congo that has served more than 40,000 women, over half of whom are survivors of sexual assault. The moving song, featuring members Rokia Koné, Mamani Keita, Nneka, and Mariam Doumbia can be heard below and viewed with English subtitles: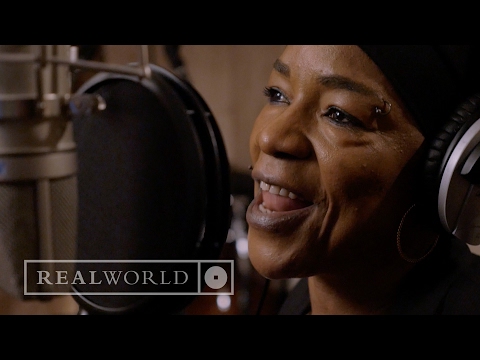 Issues of ongoing violence against women, sexual abuse, unequal access to land and education, and practices of female genital mutilation are present not just in Africa, but throughout the world. Les Amazones d'Afrique fight the idea of Africa as a monolithic culture, but aim to unite many countries and cultures in West Africa in the fight for gender equality.
The powerful female group is bold not only in their politically charged lyrics, but in the mix and use of many different technologies, musical instruments, and languages. Songs such as "Dombolo" (featuring the group's most famous member, Angelique Kidjo) and "Le Dame et Ses Valises" (in which an internal conversation asks, "Woman, don't you know you are a queen?") have an industrial, contemporary sound, overlapping many soulful voices, high and low vocal timbres, and pulsating, electronic sounds. The hazy vocals in "Wedding" sound like they are coming out of a fuzzily recorded cassette, while the accompanying Malian blues guitar gives the song a relaxed, easy listening feel.
Most the songs on République Amazone reside in this space between the old and the new, the electronic and the acoustic, using varying technologies to push the boundaries of genre and rejecting the false impression that West African music is uniform. As the liner notes state: "We are swirling about in several decades simultaneously – filthy backwards or wah wah guitars, distorted thumb piano, dreamy, jazzy chords and soulful singing over a pneumatic beat."
The format of the music matches the group's intent, challenging stereotypes and conventional norms of what it means to be a musical collective from West Africa, and more importantly, what it means to be a woman living in West Africa and in the increasingly globalized world. République Amazone is an impressive debut from Les Amazones d'Afrique, a group that is undeniably talented and relentlessly passionate about women's rights and global equality.
Reviewed by Anna Polovick