Title: Loé Loá: Rural Recordings Under the Mango Tree
Artist: Betsayda Machado & La Parranda El Clavo
Label: Odelia
Formats: CD, MP3
Release date: September 14, 2017
Known as "the Black voice of Barlovento," Venezuelan vocalist Betsayda Machado and her fellow musicians hail from descendants of rebel slaves who lived in clandestine villages deep in the Barlovento region of Venezuela. One of the most culturally distinctive traditions that has endured in these villages is Afro-Latin drumming, or tambor venezolano, expressed through the local genre parranda. This percussion heavy music, often performed by as many as one hundred musicians at village celebrations and funerals, has many different branches. Machado and her village band, La Parranda El Clavo, prefer to focus on the "trunk," which she defines as the drums and vocals that form the heart of their tradition: "We are purists; we don't worry about adding lots of melodic instruments. We defend the old ways and make our own drums."
Though Machado has performed on world music stages in North America and with bands in Caracas, it wasn't until recent years that efforts were made to capture her music in situ with La Parranda El Clavo. Thanks to the efforts of producer Juan Souki and Jose Luis Pardo (aka Los Amigos Invisibles' DJ Afro), field recordings made in the village by Latin Grammy-winner Dario Penaloza were transformed into the groups' debut album, Loé Loá: Rural Recordings Under the Mango Tree.
Featuring a 16 member chorus and 12 member percussion ensemble, all of the tracks on the album vibrate with the spirit of El Clavo. In particular, "Oh Santa Rosa" and "Merengada E' Ron" perhaps best exemplify the virtuosity of the drumming, along with "No La Peles, Papá" and "La Situación" which also address current hardships and food shortages in Venezuela. The band also advocates against gun violence through the poignant song "Sentimiento," written following the death of two of their friends: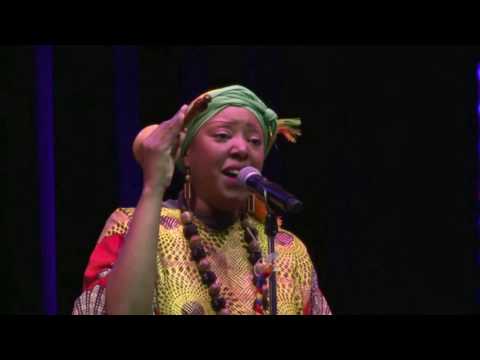 Loé Loá presents an intimate portrait of a centuries old musical tradition that connects a small village in Venezuela with its African roots.
Editor's note: Betsayda Machado is touring the U.S. this fall, including performances on September 16-17 at the World Music Festival Chicago and Sept. 30 at the Lotus World Music and Arts Festival in Bloomington, IN.
Reviewed by Brenda Nelson-Strauss