Title: Please Don't Be Dead
Artist: Fantastic Negrito
Label: Cooking Vinyl
Format: Digital, LP, CD
Release Date: June 15, 2018
Oakland native Xavier Dphrepaulezz, professionally known as Fantastic Negrito, is an award winning musical artist and story teller. Coming back from a decade long hiatus, Negrito returned to the music industry in 2016 with more fire and flare then before, releasing The Last Days of Oakland which won him his first Grammy Award. More recently, Negrito was featured on an episode of the popular Fox television series, Empire.
Negrito's latest release, Please Don't Be Dead, is a rock-soul album that presents issues, warnings and solutions that have everything to do with American society and the people that live within it. Negrito wants people to "stay woke" by being aware that what is happening currently in our nation is not a normal occurrence. The album cover art, a real-life photo of Negrito coming out of a three week coma caused by a previous car accident, represents his efforts to leave dark times in the past. By choosing to move forward and leaving behind hatred, blame, disrespect and hopelessness, Negrito stands with his community to embrace love, unity, empathy and compassion.
Regarding the title track, Negrito said "Please Don't Be Dead" tells the story of a man standing over something he cares about that is wounded. He's looking around, and he's saying: "Do Something."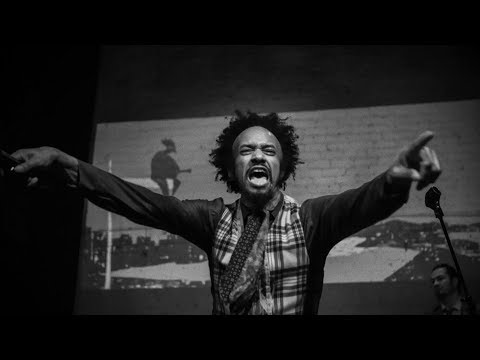 "Plastic Hamburgers" is a call to the listener to break down the walls that keep people separated from one another in American society, harkening to issues of racism, classism, sexism, poor government policy and regulation. The chorus, "Let's break out these chains, let's burn it down," suggests that we are slaves to the American hegemonic machine, referred to as a "bomb with a winning hand." Negrito suggests we can overcome this domination if we stop buying into the idealistic pressures of American society.
"Bad Guys" continues with this narrative, suggesting that dominions create the evil, charging us to fear it while swearing to protect us from it. According to Negrito, a "bad guy" is a figure, thing or idea that we can point to as the blame for all the problems we create. He goes on to suggest we should look in the mirror before we start blaming others for the issues we create due to the consequences of our choices.
"A Letter to Fear and Transgender Biscuits" is the silver lining of the album. Despite the horrible things happening in America, Negrito claims, "We can carry on." In doing so, however, we don't have to accept the current issues as the norm. Negrito offers his solution to the problem by standing with his friends and his community who have agreed that, "Hope will never die!" The song encourages everyone to keep fighting against the present violent norms by pressing back against it with love as a community: "All the people with love in your heart, get unified, get organized….. Unity." By unifying and organizing, standing against the issues that are being pressed upon us to be accepted as the norm, we can elicit change. That is the history of the positive paradigm shifts in our nation's past.
"The Suits That Won't Come Off" is a song that encourages perspective empathy. As Negrito sings, "How do you sleep at night when you have stolen from me," he is asking his audience to stand in the shoes of those in other circumstances in order to gain compassion. How different could this world be if people respected those who are unlike them? Negrito ends his album with the funk and gospel influenced, "Bull Shit Anthem." The chorus of the song sums up what Negrito wants us to do with all the issues presented on the album. Along with love, standing with the community, showing empathy and having compassion, we need to "Take that bullshit, turn it into good shit!"
Please Don't Be Dead is a fitting wake-up call from an artist who reclaimed his consciousness both physically and artistically, and is now striving for others to follow his example. It's a request we all should heed, as Negrito instructs, before it's too late.
Reviewed by Bobby Davis