Title: Kidal
Artist: Tamikrest
Label: Glitterbeat Records
Formats: CD, LP, MP3
Release date: March 17, 2017
Kidal is a city in Northern Mali, on the southwestern edge of the Sahara. In this city in the desert, the Tuareg people live. Though nomads, the Tuareg briefly had a home after rising up and declaring the intendent state of Azawad in 2012, but less than a year later al-Qaeda swept in, then the French military. In this city torn by fights between governments and corporations, the rock band Tamikrest began in 2009. Now on their fifth album, Kidal, named after that city where it all began, the group still sings about the suffering and resistance of the Tuareg people with music powered by an insistent groove, snaking bass lines, and melodies blending influences of Sahel Africa, the Maghreb, and the West.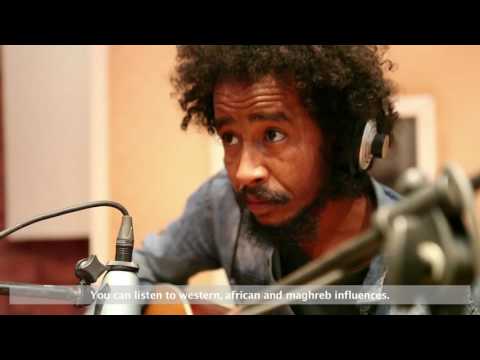 Tamikrest wrote the majority of Kidal while in the desert, making sure they depicted and remembered the struggles of their people accurately. As in all of life, they witnessed both joy and pain, and the songs draw from these various emotions. Some tracks, such as "Wainan Adobat," "War Toyed," and "War Tila Eridaran" are more energetic and rock oriented, with driving percussion by the drumset and interweaving electric guitars that favor restraint and control over face-shredding solos.
Many of the other songs are contemplative ballads. "Atwitas" is slow and intentional, with lead singer Ousmane Ag Mossa's vocals about as deep and low as they get. With a faster tempo but entirely made up of acoustic guitars, vocals, and a soft, eerie background noise, "Tanakra" is the rawest song on the album, full of sorrow and foreboding. The final track, "Adad Osan Itibat," has a much happier feel, with background percussion made up of soft clicks and snaps. Ag Mossa's vocals are in a much higher register, and the accompanying acoustic guitar is plucked in a melodious, hopeful pattern with only occasional chords thrown in.
Tamikrest often talks about struggle, war, and the threats by companies and governments to the desert and the Taureg people, yet it is on this optimistic note that they end Kidal, hoping to bring change through defiance, resistance, and rock 'n' roll.
Reviewed by Anna Polovick