Title: Soulrocker
Artist: Michael Franti & Spearhead
Label: Fantasy Records/Concord
Formats: CD, LP, MP3
Release date: June 3, 2016
Michael Franti & Spearhead are known for their brand of upbeat, socially conscious pop and hip hop-infused reggae. In their ninth studio album, Soulrocker, they continue to experiment with genre and beat, introducing electronic music to their repertoire. Though most of their records have been largely self-produced, they worked on Soulrocker with Jamaican producers Stephen "Di Genius" McGregor, known for his dancehall sensibilities, and Swayne "Supa Dups" Chin Quee, who has worked with artists such as Bruno Mars and John Legend. Despite the new producers and beats introduced on Soulrocker, Michael Franti & Spearhead continue to find innovative ways to keep their organic instrumental and reggae sound that fans have come to know and love.
In a single more akin to past hits "Say Hey (I Love You)" and "I'm Alive (Life Sounds Like)," the upbeat anthem "Once A Day" is about unexpected moments in life, whether they are beautiful moments or "unexpectedly challenging." Featuring Sonna Rele and produced by Supa Dups, this reggae jam is an infectious celebration of life and all its ups and downs. Franti wrote on YouTube that the song originally stemmed from how his family came together in the wake of his son's diagnosis of a rare kidney disease, and hopes the song and video (below) can help people rise up, sing, and dance: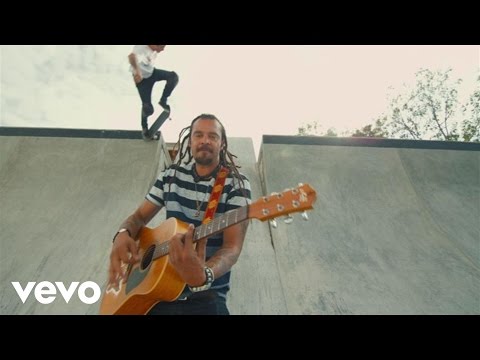 "My Lord," "We Are All Earthlings," and "Get Myself to Saturday" play with heavy EDM beats and synth, inspired by Franti's love for Kraftwerk since he was seven years old. "Get Myself to Saturday" embodies the main message of the album, that throughout life's struggles and personal longings for success, true happiness is found in giving back to the community and working for the greater good. The track is full of determination and hope, as Franti sings, "There is a part of me that can't go on today/and there is a part of me that finds a way."
Michael Franti & Spearhead have never been afraid of making political statements and being forthright about social issues, true to the messages of peace and nonviolence that come from Rastafari beliefs and from reggae legends like Bob Marley. "Good To Be Alive Today" is an acoustic guitar driven track that tackles everything from climate change and police brutality to drone strikes and ISIS. True to form, Franti infuses this sorrowful song with hope, asking people to remember the little "moments of victory" in life.
A personal favorite on the album is "Crazy for You," a song about the power of loving someone amidst a seemingly crazy world of violence and political difference. The romantic declaration is accompanied by bright, staccato horns and a full unison chorus, and is made sweeter by Franti's reference to the song as an ode to his wife.
Though some may be wary of the EDM elements on Soulrocker, Michael Franti & Spearhead have always pushed the boundaries of reggae styles and popular music, and this album is no different. From joyful declarations of love to thought-provoking songs, Soulrocker at once fully feels the weight of a world prone to violence, misunderstanding and hate, while recognizing that joy and hope keep people motivated to create change. Franti's hope is that everyone can become a "soulrocker," what he calls someone who "lives from the heart with compassion for all, and who's got tenacious enthusiasm for music, life, and the planet."
Reviewed by Anna Polovick