Title: Cookpot
Artist: Paa Kow
Label: Paa Kow Music
Formats: CD, LP, MP3
Release Date: October 13, 2017
Ghana-born drummer Paa Kow's new self-released album, Cookpot, presents the listener with a wide range of influences. Paa Kow, who now resides in Colorado, has been performing since he was seven years old, and he initially gained fame in his native Ghana as the "Small-boy Drummer." His virtuosity as a drummer is always present throughout the 13-track release, along with a unique stylistic amalgam of several genres. First and foremost, there is the stylistic influence of highlife, which is to be expected given his heritage and the music's origins in Ghana. The listener unfamiliar with highlife could easily assume that Cookpot is a Caribbean release, and that assumption would not be entirely unfounded due to the fact that highlife has been heavily influenced by Afro-Caribbean music such as calypso.
The opening track, "The Way I Feel," begins as a standard funk tune, but it ultimately separates itself through Paa Kow's impressive drum fills and a B section that is both heavily syncopated and laden with stop-time accents. Accompanied by some stellar electric piano playing, "The Way I Feel" would be at home on one of Herbie Hancock's funk albums. It is a track that sounds as if Herbie recorded an album with a Ghanaian drummer.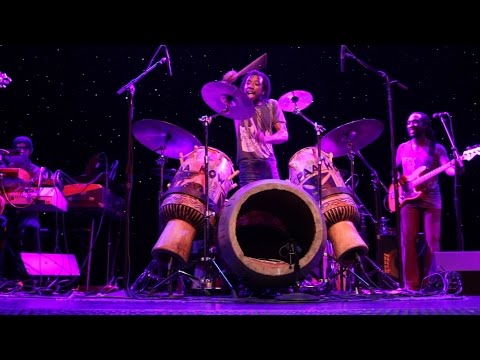 The title track is deceptive. Its fusion of styles—world, jazz, and funk—is so seamless that it is easy to forget that it isn't just a funk song. Like what can happen with a good meal, the end product often masks the flavor of each individual ingredient. "Cookpot," then, is a fitting title for this track. Also mixing ingredients, "Forced Landing" is the most glaring example of the fusion of styles on this album. What begins as a jazz tune with an intro trumpet solo switches time signatures and transforms into a highlife song before ultimately changing time signatures again and settling into a funk groove. It is essentially three songs merged into one.
One of the standout tracks on the album is "African Lady," which along with "Lonely" and "Pete Pete," are the most highlife-influenced tracks on the album. "African Lady" is an upbeat tune with a complex rhythmic pattern laid out cooperatively by the drums, guitar, and keyboard. Drummers will find this to be an inspirational performance along with the track "Details," featuring a solo where Paa Kow demonstrates his impeccable technique on the drum set.
Collectively, this album's focus is drum-centric, and it offers up a great deal of rhythmic complexity. Nevertheless, throughout the recording there are some first-rate solos from the keyboard player, guitar player, and horn players. The combination of styles creates a unique product in that this is not the typical jazz-funk album. Paa Kow has thrown a variety of ingredients into his cookpot, and the result is an album that is equal parts jazz, funk, and highlife. Anyone who possesses a stylistically wide palette would be remiss to not listen to Cookpot, and those who enjoy listening to a virtuosic drummer cannot afford to pass this one up.
Reviewed by Joel Roberts