Title: The Power of Peace
Artist: The Isley Brothers and Santana
Label: Sony Legacy
Formats: CD, LP, MP3
Release date: July 28, 2017
The Power of Peace blends the signature styles of powerhouse performers Carlos Santana and brothers Ron and Ernie Isley into a beautiful tribute to several influential artists whose musical styles range from funk to soul and jazz. Centered on the themes of peace and love, this project is sure to excite listeners as iconic songs are infused with new flavor.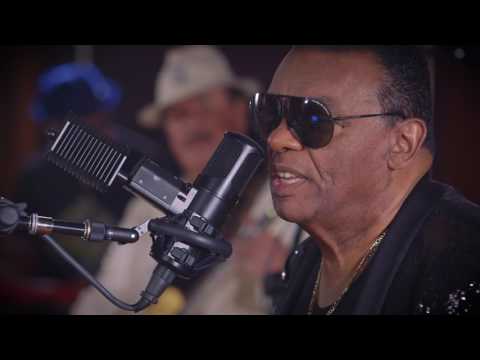 The album opens with a bang featuring a cover of the Chamber Brothers' song "Are You Ready." Layered percussion and drums performed by Santana and his wife Cindy Blackman Santana alongside an intoxicating electric guitar (also by Santana) create a funky and fun soundscape and prepares the listener for a stimulating musical experience. The band maintains this momentum throughout the next two tracks, Swamp Dogg's "Total Destruction of the Mind" and Stevie Wonder's "Higher Ground," on which Santana performs riveting electric guitar accompaniment and solos.
The middle of the album changes pace with a group of softer, slower pieces extolling the beauty of romantic love. Cindy Santana sings her sensual new song "I Remember" with playful background support by Ron Isley. Similarly, Isley and his expert use of falsetto is utterly captivating on the ensemble's cover of Curtis Mayfield's "Gypsy Woman." The male R&B "quartet" sound that shaped the original version is largely absent as the band employs a classic smooth groove, slower tempo and mixed background voices to transform this song into a mesmerizing, seductive ode to unrequited love. Santana and Isley also shine while performing Muddy Waters and Willie Dixon's frequently covered hit "I Just Want to Make Love to You." Santana's energizing guitar riffs and Isley's vocal dexterity (including growls, moans, etc.) make this a standout track on the album.
The Power of Peace concludes with songs about social justice and harmony such as Marvin Gaye's "Mercy Mercy Me (the Ecology)" and Dionne Warwick and Jackie DeShannon's "What the World Need Now is Love Sweet Love." Isley sensitively delivers these musical messages while supported by Santana's earnest and beautifully crafted instrumental accompaniment.
While the musical pairing of The Isley Brothers and Carlos Santana would seem unexpected, this project is the realization of a dream. Santana, who has numerous accolades as an artist, now desires to chart new waters and create music with his longtime favorite musicians including the "incomparable" voice of Ron Isley. Listeners will certainly be glad that some dreams do come true as they are inspired, surprised, and entertained by the fresh music of The Power of Peace.
Reviewed by Raynetta Wiggins