Title: In Paris – The ORTF Recordings
Artist: Larry Young
Label: Resonance Records
Format: 2CD
Release Date: 3/11/16
Newark, NJ native Larry Young (also known as Khalid Yasin) is probably best known for his fiery organ-combo recordings for Blue Note, or perhaps for his late 60's membership in the original Tony Williams Lifetime group, with drummer Williams and guitarist John McLaughlin. In this new 2-CD collection, we hear the 24-year-old Larry Young moving away from the soul-blues organ combos he had led since his first recording in 1960, and toward a more modern, modal jazz heard on his classic Blue Note album Unity.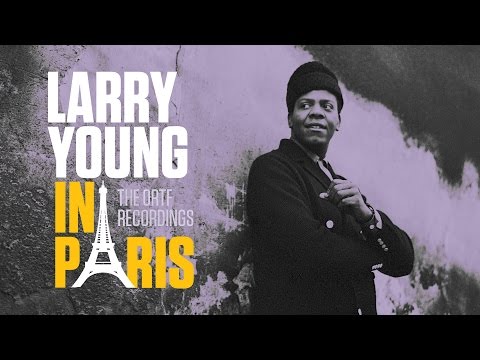 Young's performances for the French public broadcaster, ORTF, were recorded in late 1964 and early 1965, broadcast once and then kept in a vault until Resonance Records made a release deal with the French national archives' media division, the INA. Good news for jazz fans, Resonance hints that there are worthwhile recordings by many other American jazz musicians in the INA vaults, and they intend to release them.
The ORTF recordings place Young in a variety of settings: trios, quartets and larger groups. Most were made in the ORTF studios, but two cuts are from a broadcast of l'Acadamie du jazz's concert held February 9, 1965 at La Locomotive club in Paris. One of those performances is a 20-minute rendition of Young's "Zoltan," which he later recorded as the opening track of Unity. The song is a tribute to Hungarian composer Zoltan Kodaly, which is the result of an interesting part of Young's background. He learned piano from Hungarian émigré Olga Von Till, who studied with classical composer Bela Bartok in Budapest, and also taught jazz piano great Bill Evans, and many less famous students in northern New Jersey. Ms. Von Till is profiled in the album's sizable booklet, an interesting side character in an important jazz career.
According to the album's liner notes, Young was in France in late 1964 and early 1965 because there were paying gigs, and freedom from the tense political and racial environment then coursing through Newark and New York. He signed on with tenor saxophonist Nathan Davis's quartet at the Paris club, Le Chat Qui Peche (the Cat who Fishes), which included his Newark jazz buddies, trumpeter Woody Shaw and drummer Billy Brooks. The group recorded about half of the cuts across the 2 CDs, and Davis and Shaw also played in the larger-group recordings made by ORTF.
While some of the playing is rougher than would be expected on Young's Prestige or Blue Note albums, the musicians often lock into deep grooves, and the crystal clear recordings by ORTF's engineers showcase each musician's contribution. The long jams work because the playing is imaginative and the soloists are clearly being driven onward and upward by their band mates. There's a one-take-or-bust excitement to everything, very capable musicians driven by spontaneous grooves and improvisations. This kind of jazz is hard to pull off, and is rarely heard at such a high level.
It's worth noting that these recordings fall around and just after the time Young made his first Blue Note album, Into Somethin' (recorded November 12, 1964) and a few months before he made the seminal Unity (recorded November 10, 1965). It's clear that Young is moving toward something that was new and different for the jazz organ, more abstract, fleet-fingered and percussive, different from the blues-funk style of many of his contemporaries. He would go on to explore a more free-form style, and end up in the earliest group of fusion-jazz musicians, playing on the first two Tony Williams Lifetime albums and on Miles Davis's Bitches Brew.
In the ORTF recordings, now out of the vault and available to all, we hear an energized Larry Young moving his art in a new direction, in the company of capable cohorts. Throw in some high-class packaging and a 68-page booklet with details about Young's life, the ORTF and its jazz shows, the circumstances of these recordings, and remembrances of Young's band mates and friends, and the result is indeed a very appealing release.
Reviewed by Tom Fine