Title: Invite the Light
Artist: Dâm-Funk
Label: Stones Throw
Format: CD, MP3 Vinyl
Release Date: September 4, 2015
Pasadena, California-based musician and producer Dâm-Funk returns with the announcement of his newest solo project Invite the Light, to be released September 4th on Stones Throw Records. There is no doubt that Dâm-Funk is a powerful asset to the label. His production perfectly fits within the label's current stable of artists while at the same time extending the broad musical diversity of Stones Throw's offerings. It is possible to hear the manipulation of textures and beats which Stones Throw artists tend to be fond of on the track "Acting", which features the cosmic vocals of pop surrealist Ariel Pink. By interspersing old school beats with futuristic sounds, atmospheres, melodies, and harmonies on cuts like "She Lights Me Up," Dâm-Funk channels many of the artists who have influenced his approach to production.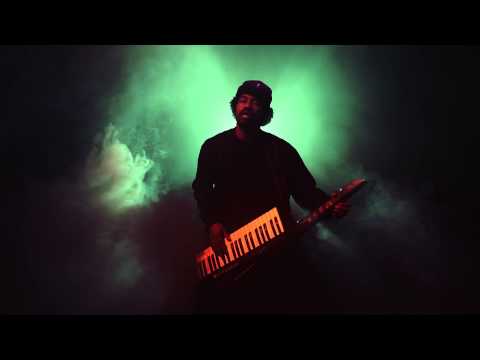 After numerous collaborations, Invite the Light is Dâm-Funk's first solo album in nearly 6 years. The influence of the collaborative processes in which Dâm-Funk has participated during the past several years is apparent through the impressive diversity he offers as the album's guiding concept: "the awareness of funk." So, it's not surprising that funk-master Junie Morrison (perhaps best known from his work with the Ohio Players or his participation with the P-Funk collective in the late 1970s) opens the album with an intriguing introduction on "The Secrets of Funk," heralding this album as "The spearhead of the revolution and the nearly forgotten school of groove formerly known to us as the funk" which "will cause an evolutionary leap in consciousness and in the message of the funk itself." And Dâm-Funk definitely knows how to deal with the P-Funk legacy, as is keenly illustrated by "HowUGetFu*kAround", what may be heard as the descendent of "Flashlight," a kind of proto-g-funky-hip-hop. This style has been Dâm-Funk's bread and butter since Adolescent Funk, the series of demos and home recordings he made between 1988 and 1992. Following George Clinton's "Atomic Dog," "The Acceptance" uses a recording trick similar to the one Clinton employed that "intended for the bass and the handclaps to be abnormally loud"[1] in order to produce the danceable beat that drives both tracks.
To further explore the techniques that Dâm-Funk uses when constructing his beats, one may simply look at the "phat bassline" on "Just Ease Your Mind", which meshes perfectly with the signature flow of Snoop Dogg, with whom Dâm-Funk previously collaborated on 2013's 7 Days of Funk. Other tracks are notable not only for their all-star cast of featured artists but also for how they demonstrate Dâm-Funk's adroit beatmaking skills, as with two versions of "I'm Just Tryna' Survive," offering a "party version" as well as the original, with both sporting distinctly different raps by Q-Tip. This type of juxtaposition also occurs again with the modern/retro track "Floating on Air" featuring the surprising duo of Flea and Computer Jay.
In short, Invite the Light represents a convergence of many different sounds and textures, creating a pleasant and even astonishing whole when considered as a full package. What binds all of these disparate influences together? Funk, of course. So, as Clinton would say, sit back, relax and "give up the Funk!"
Reviewed by Guillaume Dupetit
[1] See "Dam Funk Interviews George Clinton: It's A Beautiful Stink!" by Nathan Morse on L.A. Record website, http://larecord.com/interviews/2014/08/31/dam-funk-interviews-george-clinton-parliament-funkadelic. August 31st, 2014.