Title: Music is My Home, Act 1
Artist: Raphaël Imbert and Co.
Label: Harmonia Mundi/JazzVillage
Formats: CD, MP3
Release date: February 5, 2016
French saxophonist Raphaël Imbert took a musical journey from 2011-2013.  Funded through a grant from his native country, Imbert traveled throughout the Southern United States to study improvisation in popular and traditional music.  Meeting musicians like Leyla McCalla, Big Ron Hunter, Alabama Slim, and Sarah Quintana along the way, Imbert invited these musicians to another South—of France, that is—to record Music is My Home, Act 1 with his bandmates.
For Imbert, the phrase "music is my home" evokes the heart of his cultural exchange project: it is "a state of mind, [a] creative look at heritage, [and] a feeling of welcome, otherness, and innovation."  Imbert is, ostensibly, working as an ethnomusicologist.  However, the album's liner notes reflect this lack of training in the discipline: he confuses the "Deep South" with Appalachia, makes fuzzy statements about the nature of zydeco, and does not reveal the questions that guided his musical search.  To be fair, his release is not an academic monograph, but is focused on the music shared by these cross-continental encounters.  And to be clear, his enthusiasm for the project is palpable in the release's liner notes and recordings.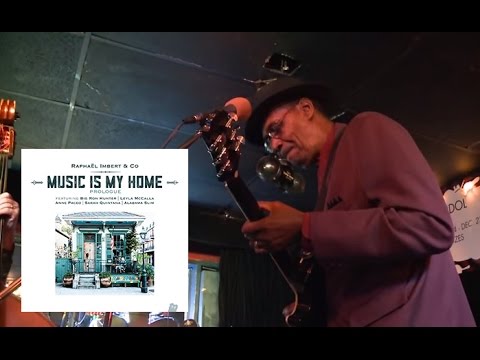 On Music is My Home, Imbert gives ample room for others to share in this enthusiasm.  His band—Thomas Weirich (guitars), Simon Sieger (trombone, keyboards, accordion), Alain Soler (harmonica), Marion Rampal (vocals), and Pierre Fenichel (double bass, bass ukulele), and Anne Paceo (drums)—provides an especially fertile foundation for the album's invited guests.  On "Going for Myself," Big Ron Hunter leads the musicians on a R&B voyage, which Imbert and his musicians navigate with ease.  The original compositions by Alabama Slim—"The Mighty Flood" and "Please, Don't Leave Me"—are cultural exchanges that end with nods of approval.
On Music is My Home, Act 1, Imbert's own compositions draw from the musical knowledge and socio-cultural history of African Americans and the African Diaspora he learned in his Southern travels.  The album's first track, "MLK Blues" is a bricolage of zydeco and blues, with jazz-inflected solos by Imbert, demonstrating his eagerness to blend musical styles. Imbert walks the fine line of cultural misappropriation with "Just a Closer Walk With Thee," but rationalizes the song's inclusion: when Big Ron Hunter heard Imbert playing the melody, the former began to weep.  Imbert uses this sentimentality as a green light, and even includes Hunter's statement, "My mother used to sing me that spiritual when I was little," on the recording.  If Imbert's metaphorical "home" is out of bounds anywhere on this record, it is at times like these.
As with any project predicated on working outside of one's musical element, Music is My Home, Act 1 lacks a deep intimacy with the musical traditions from which it borrows.  Imbert is deferential to the African American artists on the recordings, but never hands complete control to them.  While Music is my Home, Act 1 is well-performed and musically-engaging, it is difficult to embrace the album due to its lack of clarity on cultural politics.
Reviewed by Douglas Dowling Peach