Title: Tattoo Burn-Redux
Artist: Micki Free
Label: Mysterium Blues
Formats: CD, MP3
Release date: May 12, 2017
Those of a certain generation will likely remember Micki Free as lead guitarist for Shalamar, the group created by Soul Train's Dick Griffey and Don Cornelius. Free's decade long tenure with Shalamar began in the '80s during what one might call his Prince phase, and included the hit songs "Dancing in the Sheets" from Footloose and "Don't Get Stopped In Beverly Hills" from Beverly Hills Cop. After Shalamar, Free joined Jean Beauvoir's heavy metal band Crown of Thorns, along with Tony Thompson of Chic and bassist Michael Paige. He later formed his own band, Micki Free Electric Blues Experience, and also released a number of solo projects. Though he's perhaps best known for his collaboration with many African American artists, Free is actually of Native American descent, and in recent years has developed a Native Music Rocks program.
Tattoo Burn-Redux is a remixed and expanded version of his 2012 release, Tattoo Burn. The album is a showcase for the many talents of Micki Free, who composed, arranged, produced and sings lead on the 10 original tracks and one cover, while also performing on lead, slide, and rhythm guitars. He's accompanied by an A-list rhythm section led by Cindy Blackman-Santana and David "Hawk" Lopez (Crown of Thorns) on drums, with Bill Wyman (Rolling Stones), Jack Dailey (Lenny Kravitz), Kenny Gradney (Little Feat), David Santos (and occasionally Free) sharing bass duties.
The album settles into a funky groove on the new opening track "God Is On the Phone," with Free sharing lead vocals with another Shalamar alum, Howard Hewett. "Greens & Barbeque" shifts towards blues-rock, allowing plenty of room for guitar solos in a song dedicated to Free's mother and her glorious cooking. "Six Feet Down in the Blues" and the slow burner "Mojo Black Coffee" are notably anchored by Hammond organ master Mark "Muggy-Doo" Leach (Buddy Miles Express) and Brother Paul Brown on keys.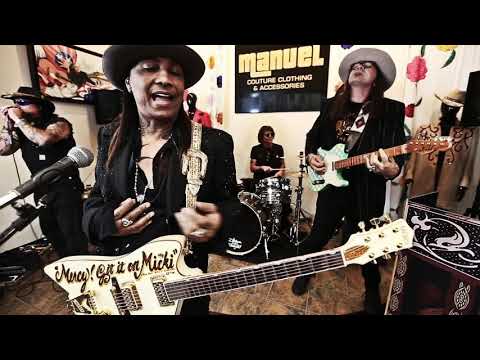 One of the highlights of the disc is the rock guitar anthem "There's a Hole in the Heart of the Blues," which allows the entire cast to strut their stuff. Other new tracks include the only cover on the album, the Jimi Hendrix tribute "Hey Baby (The New Rising Sun)," and the seasonal ballad "Sometimes in Winter" backed by a female vocal trio. Last but not least, Free offers the hard rocking "Five Minutes Till Christmas" which should definitely be added to your holiday playlist.
Reviewed by Brenda Nelson-Strauss