Title: Ever Popular Favourites
Artist: Martin Simpson and Dom Flemons
Label: Fledg'ling Records
Formats: CD, MP3, LP
Release date: October 7, 2016
Multi-instrumentalist folk music enthusiasts Martin Simpson, an English singer and songwriter, and Dom Flemons, co-founder of the Grammy Award-winning Carolina Chocolate Drops, were commission in 2014 by the English Folk Dance and Song Society (EFDSS) to explore the musical exchange between their respective folk song traditions. The duo combed the Cecil Sharp House archives, where they discovered many of the traditional songs they chose to revive. The result of their collaboration is Ever Popular Favourites, a collection of English and American folk music recorded live during the duo's 2015 tour.
The album liner notes, written by Flemons and Simpson, provide first-hand impressions as well as their descriptions of the music. On the opening track, "My Money Never Runs Out," Flemons sings and plays plectrum banjo while Simpson provides rhythm on acoustic guitar. Originally recorded by Gus Cannon, aka Banjo Joe, and ragtime guitarist Blind Blake in 1927, this "coon" song was released on Paramount Records. Flemons explains in the liner notes that raucous "coon" songs brought mainstream attention to Black entertainers in the U.S. at the time.
"John Hardy," a song made famous by Leadbelly's recording, has been arranged by Simpson to highlight his mastery of fingerpicking technique on the acoustic guitar. "If I Lose" follows with Flemons singing a falsetto blues melody along to a duet of mellow slide guitar vibratos. "Little Sadie," a ballad that's been performed by Hedy West, Doc Watson, the Grateful Dead, and many other folk musicians, picks up the pace with an arrangement featuring a bones rhythm and 5-string banjo.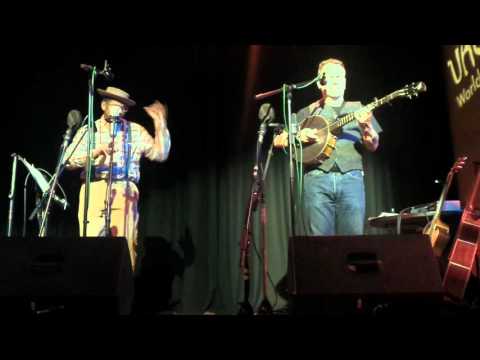 According to Simpson, "Short Time Come Again No More" (track 6) is an English parody of Stephen Foster's classic American song "Hard Times Come Again No More," though its origin remains a mystery in his explanation. Simpson discusses how his early guitar playing was heavily influenced by Mississippi John Hurt's "Pay Day," a song arranged on this album for slide guitar featuring a steady fingerpicking style resembling that of Hurt. This stylistic inspiration can be heard again on "Too Long (I've Been Gone)," the only original song on the album, written by Flemons about the life of a touring musician.
"Bulldoze Blues" and "Coalman Blues" both incorporate dark lyrical themes into otherwise joyful instrumental tunes, especially since they feature Flemons playing the quills, a traditional African American pan flute. Talented on a variety of instruments, Flemons plays bones on "Buckeye Jim" and "Champagne Charlie," and further demonstrates his innovative creativity by performing electric kettle instead of using a traditional jug on the recording of "Stealin'."
Hopefully Simpson and Flemons will share more selections from their expansive repertoire of traditional English and American folk music in the near future as a follow up to this thoroughly entertaining album.
Reviewed by Jennie Williams