Title: Routes
Artist: Diali Cissokho & Kaira Ba
Label: Twelve Eight
Formats: CD, Digital
Release date: June 29, 2018
Building a bridge across the Atlantic, Routes is a collaboration between Sengalese kora master Diali Keba Cissokho and his band Kaira Ba that links North Carolina to M'bour, Senegal—where the tracks were recorded in a rattan-paneled hotel room overlooking the ocean. Cissokho, who was born into a family of griots and can trace his musical linage back to 16th century Mali, relocated to North Carolina after marrying an American student of Sengalese music. There, he connected with a quartet of local musicians including drummer Austin McCall, percussionist Will Ridenour (who also plays djembe), Berklee-trained jazz guitarist John Westmoreland, and bassist Jonathan Henderson—an ethnomusicologist well versed in jazz and afro-diasporic styles. Working together to create a musical language that combined elements of these multiple traditions, the group transformed into Kaira Ba.
One of the unique aspects of Routes is the wide range of contributing artists from both nations who lent their talents to this project. As the tracks were laid down in Senegal, Cissokho invited numerous friends and relatives to contribute to the mix, including a group of drummers who set up in the courtyard. Once the band returned home, they overdubbed instrumental and vocal tracks using a variety of well-known local musicians. Their goal, to "tell the story of these two places Diali has called home," has certainly been realized through this expanded musical palate and community spirit, while the aural soundscapes of each location also enter the mix.
Opening with the familiar Carolina summer sound of cicadas, "Alla L'a Ke" is a traditional kora song dedicated to Cissokho's late father, which the group transforms through the addition of a string quartet featuring violinist Jennifer Curtis, among others. Up next is "Badima" with a catchy Afro-rock groove laid over Chuckey Robinson's organ and a fast and furious percussive conclusion.  Salsa, which is extremely popular in West African, is the basis for the track "Salsa Xalel," blended here with the national dance mbalax using local percussion and balafon. The tie-in to the American South comes by way of the track's funky horn section and gospel singers Shana Tucker and Tamisha Waden, who join Cissokho on vocals as they ponder what kind of world are we leaving for our children: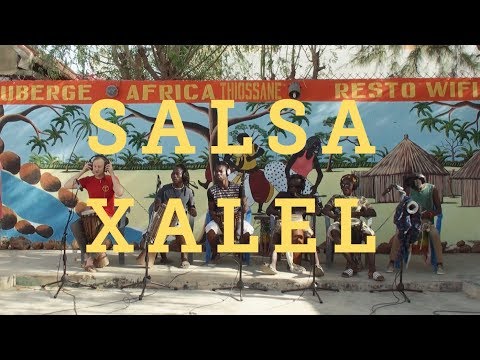 Yet another interesting sound collage can be found in "Saya," a poignant song about grasping the reality of death. Opening with a kora solo by Cissokho, the focus shifts mid-section to Eric Heywood's pedal steel guitar, blending perfectly with kora, guitar and bass. John Westmoreland takes the lead on "Story Song," which he composed in the Mali style known as desert blues, with Cissokho providing the narration in English about the band's seven-year collaboration: "these people I'm playing music with / we're not the same culture / we're not the same religion/ but out heart is the same…you can't play music like this if your heart is not beautiful."
The album closes with "Night In M'Bour," featuring a collage of sounds recorded during an evening in Cissokho's home town, including a traditional sabar drum ensemble and fula flute solo, then concluding with the night crickets of M'Bour—a bookend to the opening soundscapes of North Carolina.
Routes is the perfect showcase for Kaira Ba's unique fusion of Senegalese and American musical traditions, as well as a demonstration of cross-cultural collaboration and mutual respect between band members who welcomed an immigrant to their community.
Reviewed by Brenda Nelson-Strauss