Title: Live at Rosy's
Artist: Sarah Vaughan
Label: Resonance Records
Formats: CD, MP3
Release date: March 25, 2016
This recording provides a classic illustration of the difference between an artist and a performer. Sarah Vaughan lived many of her songs, harnessing her famous range of four octaves, her marvelous breath control, and her masterful control of time and rhythm to create unique interpretations of each composer's creations. She was an artist who engaged her audience during her live performances, and never more than in an intimate club setting like the one captured on this recording. The balanced program intermixes up tempo and ballad performances, demonstrating how she left her distinct imprint on songs regardless of any tempo. On this release, Vaughan is  accompanied by Carl Schroeder (piano), Walter Booker (bass), Jimmy Cobb (drums).
I have most of her recordings in my personal collection. This is one of the best of her live performances, standing alongside her wonderful performances at Tivoli Gardens (available on two EmArcy CDs) and later ones released as Live in Japan and More Live from Japan (issued on two Mainstream CDs and later by Mobile Fidelity). After Billie Holiday, Sarah and Carmen McRae provide the foundation for jazz vocalists, an opinion shared by many of their fans. This recording can be a wonderful introduction to her work for anyone who is not already familiar with her performances and recordings.
At the time of this recording, Sarah was beginning to record for Norman Granz's Pablo Records. Granz paired her with notable artists including Count Basie, Benny Carter, Zoot Sims, Frank Wess, Oscar Peterson, Joe Pass, and other notable jazz artists. Those albums from her Pablo years are certainly among her finest, catching her at the height of her powers. That does not diminish memories of earlier albums, including a memorable one with Clifford Brown, but this release is truly special. Granz once said he could tell from the opening if Ella Fitzgerald planned to perform a "jazz set." Here, Sarah's performance opens with "I'll Remember April" and clearly establishes that this will be a jazz session. Even the ballads reflect her creative imprint as she bend notes and improvises around melodies.
In short, this is not just another recording by this great jazz artist.  While the roots of her early bop singing are evident, she ranges far beyond her earlier skills in these performances.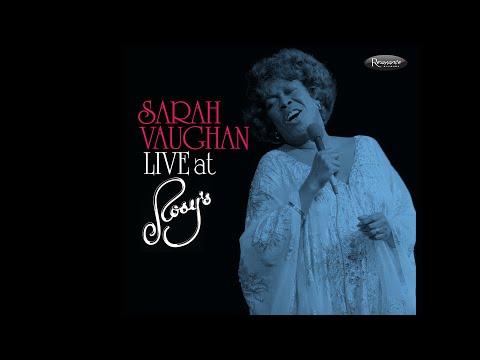 I tend to favor the performances on the first CD in this set. In "I'll Remember April," her performance flows "across the bars," reminiscent of Lester Young's unique sense of time. Her treatment of the verse to "Poor Butterfly" is simply gorgeous and brings applause from the audience as she conveys the sense of longing that the composers intended, often overlooked when others only perform the melodic chorus. Her ability to create beauty is also evident in her approach to "If You Went Away."
On "East of the Sun," she is only accompanied only by Walter Booker's solid support on bass, demonstrating her strength. This is but one of the ways she brings variety to these performances. "Somebody Loves Me" is performed with a delightfully fluid tempo, but it ends abruptly, perhaps due to editing?
Humor even surfaces when someone in the audience mistakes her for Ella Fitzgerald and requests "A Tisket a Tasket." Sarah laughs and even mimics Ella's inflections when she compiles. Fun to hear once, but perhaps not something for repeated listening. On "Fascinating Rhythm" she briefly mimics an operatic style of delivery, again delighting he audience.  It is clear that Sarah developed a relationship with her audience during this performance.
But humor is not the main event. Throughout this recording, Sarah alternates up tempo and ballad performances that can please all. Her detractors sometimes feel that her delivery can emphasize her mastery of technique at the expense of emotion. That is certainly not true here as she leaves her unique imprint regardless of the tempo.
My one reservation is that, to my ear, the equalization on the recording elevates the sound of Jimmy Cobb's cymbals , making the sound harsh at times. This is a matter of personal preference, and others may certainly disagree. But this does not detract from the qualities of being a true artist that is evidenced in Sarah's performance in this recording.
Reviewed by Thomas P. Hustad