Title: Grace
Artist: Javen
Label: Tyscot
Formats: CD, Digital
Release Date: June 22, 2018
Born and raised in Hollywood, Florida, Javen P. Campbell is the 12th child in a family of 13. His career in the music industry began in 1999 after he was signed with Crowne Records. Since then, Javen has made a name for himself in many facets of the Christian music and entertainment industry—as a vocalist, songwriter, and actor. He is also a well-known television personality, hosting Now Living on the Christian network TBN and The Gospel Music Experience alongside Tye Tribbet. Recently Javen released his 6th album, Grace, with contributions from current gospel icons like Tye Tribbet, Tim Bowman Jr., and Johnny Rez.
Featuring eight songs written by Javen over the years, as well as an arrangement of the classic hymn "Amazing Grace," Grace is beautifully produced from start to finish. The album combines harmonic, instrumental, and rhythmic aspects of Christian pop and classic gospel as well as new production techniques and rhythms from music of the African diaspora such as dancehall and hip hop.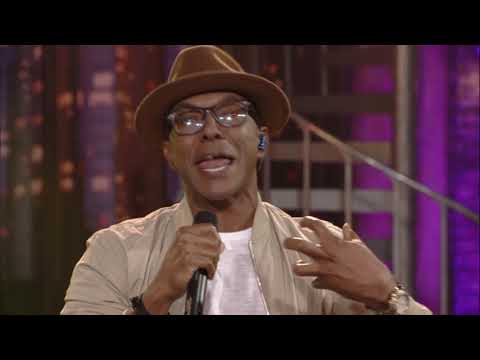 Javen opens the album explaining his understanding of the word grace, and how the term speaks to his faith. Stating he has come to understand grace as "God's love, power, and strength," he explains one must trust in these things to truly have access to God's power and favor: "Grace is not something you do/but something you receive." Immediately following this powerful introduction is the gorgeous title track duet, "Grace", featuring Margaret Bell. This compelling song showcases a classic modern gospel sound accompanied by magnificent backing vocals as the absolutely awe-inspiring voice of Margaret Bell takes total command of the song. An acoustic version of this song in Spanish by artist Johnny Rez, closes the album, as well, providing an artful compliment to not only Bell but the entire collection of worship tunes.
Javen is a spectacular artist and vocalist with such a warm and smooth tone remnant of artists like Smokie Norful and Sam Cooke, but from time to time he is a slightly outshined, vocally, by the artists he features. This is especially apparent in his duets, such as "Grace" with Margaret Bell, and "You Lift Me Up" with Christina Bell. However, this takes nothing away from the album—if anything it shines a light on the brilliance of Javen as a songwriter. Another stand-out track is the song "Fresh Oil," originally released on Javen's 2013 album, Worship In the Now, and re-recorded as a duet with Na'sha Watkins for Grace. "Fresh Oil" is an absolutely stunning song just perfect for the smooth stylings and timbre of both Javen and Watkins as they offer their prayer lyrics: "Fresh Oil from Heaven cleanse my heart/Holy Spirit I call, from you I don't want to part". This song is extremely soothing while maintaining the capacity to bring you to tears.
Grace is a wonderful and eclectic album with a perfect marriage of songs and artists. It is an offering that will touch and uplift your soul, leaving you feeling renewed and blessed.
Reviewed by Jared Griffin