Title: The Music in the Night
Artist: Rahsaan Barber
Label: Jazz Music City
Formats: CD, MP3
Release date: November 3, 2017
Saxophonist Rahsaan Barber, known for his magnificent compositions and virtuosic playing, recently released his newest project, The Music in the Night. This album showcases Barber's renditions of well-known standards while also displaying his versatility as an arranger. Barber creatively uses rhythmic hits, melodic interludes, and minimal re-harmonization in his arrangements while maintaining the original musical structure of the standards. He described the album's concept and personnel in his Kickstarter campaign video: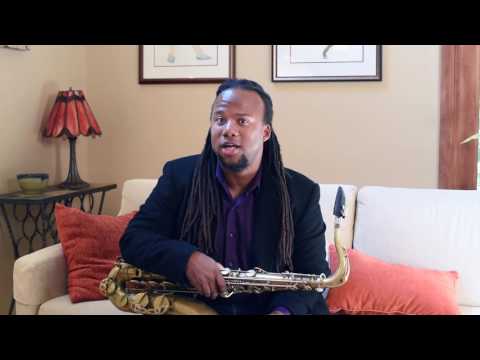 The album begins with a beautiful interpretation of Stevie Wonder's "Isn't She Lovely," arranged as a jazz swing tune with a slight harmonic variation that adds a pleasant surprise to the ears. The listener is later treated to a reggae-flavored version of "My Funny Valentine," beginning with a memorable foot-stomping groove that repeats throughout the tune. On Barber's slow blues rendition of "Georgia on My Mind," we experience the soulful side of the ensemble through heartfelt solos by Barber, guitarist James DaSilva, and pianist Matt Endahl. The Indiana University Jacobs School of Music alum also included a version of "Skylark" by another IU alum, Hoagy Carmichael, the lyrics of which inspired the album title.
The Music in the Night is comprised of brilliant arrangements and great performances by the members of the band (which also includes drummer Derrek Phillips and 20-year-old bassist Jack Aylor). I recommend this album to anyone interested in listening to beautiful interpretations of well-known standards.
Reviewed by Jamaal Baptiste