Title: Strange Circles
Artist: Bokanté
Label: GroundUP
Format: CD, MP3
Release Date: June 9, 2017
The members of Snarky Puppy have attained quintessential listening status for many in jam band, jazz-fusion, and groove-rock circles. Members of this group and musicians closely associated with them tend to have a distinctive "sound," one which draws heavily from jammy fusion and incorporates elements of world music. Strange Circles, the debut release from Snarky Puppy bassist Michael League's new side project Bokanté  falls comfortably into the world music mold.
League swaps his bass for a baritone guitar on Strange Circles, and is joined by two Snarky Puppy band mates, Chris McQueen and Bob Lanzetti. The group also includes percussionists Jamey Haddad, André Ferrari, and steel guitarist Roosevelt Collier. Vocalist/songwriter Malika Tirolien rounds out the group, delivering original songs she and League co-wrote. Tirolien, a native of the Caribbean island Guadeloupe, sings a veritable chorus of thickly arranged multi-track vocals in Creole and French throughout the album.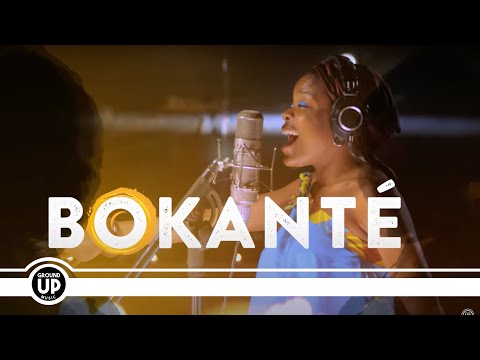 Even though most of the album prep was completed remotely, this band's playing is fluid.  This may be due to the musicians' skill or the tight arrangements, but at any rate it is a testament to what real pros can do in collaboration. The percussionists create powerful layers of rhythm throughout the record and the guitar quartet complements this with complex harmonies, making guitar interplay a highlight of this album. Collier's steel guitar playing is especially worth listening carefully to — he takes a number of compelling solos, on cuts like ¨Jou Ké Ouvé" and ¨O La," where his pedal steel almost sounds like the many vocal layers that permeate the album. The other guitarists mostly stick to riffing, but the song "Vayan" features dueling guitar solos, on a cut that sounds like an Afrobeat reading of Led Zeppelin.
One thing that the careful listener quickly learns about with Strange Circles is that the band's approach to creating musical interest depends on two things: scaffolding layers of vocals and instruments and Collier's steel guitar entering at dramatic moments.  This is a winning formula, but it is systematic nonetheless — listeners will likely be quick to learn the build-breakdown-build approach that permeates most of the songs on this album. Collier ends up being the star of the show on most tracks, in part due to the timing of his entrances and in part due to his lyricism. It would be easy to draw comparisons between his fluidity on steel and blues/rock/world fusion guitarist Derek Trucks's lyrical slide guitar. A few songs do break with the build-breakdown-build form, however: "Apathie Mortelle" burns slow, with excellent ambience playing by the guitarists, relying on chorus-drenched chords and controlled feedback to play off of the intricate layers of voice and percussion. The album's closer, "Héritier," is an acoustic and synth-driven ballad that stills the energy of some of the disc's more frenetic moments.
I wish that English lyric translations were available for those listening to the digital versions of this album, particularly given the Creole dialect that many the lyrics on this album are composed in. As a monolingual English speaker reviewing the digital copy of this album, it was difficult for me to difficult to understand and thus comment on the poetry or lyrical themes. But that aside, Strange Circles is full of compelling music that is certainly worth a listen for fans of genre-bending grooves.
Reviewed by Matthew Alley