Title: Everything's Beautiful
Artist: Miles Davis & Robert Glasper
Label: Columbia/Legacy
Formats: CD, LP, MP3
Release Date: May 27, 2016
Miles Davis is something of a musical Mona Lisa: iconic, innovative, and—despite being well-documented—open to as many possible interpretations as there are interpreters.  This is likely in equal parts due to Davis's ever-shifting musical approach as well as his cryptic and often ambiguous utterances.  Everything's Beautiful must be read as one of many possible ways to interpret Davis's music, perhaps usefully construed as paying tribute to Miles the innovator.  It is no accident that this tribute is led by an innovator in the contemporary jazz scene, Robert Glasper, who alternates between albums with his electric/electronic and acoustic groups, bringing hip hop and jazz with him along the way.  Each of the album's 12 cuts, with the exception of the first track, features a guest artist; each of these artists presents a unique take on Miles that is filtered through Glasper's electronic neo-soul jazz fusion, with heavy sampling from Davis's large body of recorded work, including both the trumpeter's music and voice.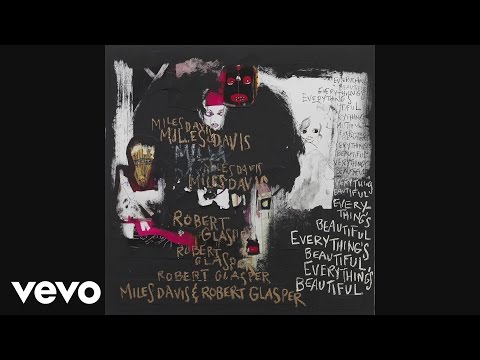 As the album's cover art, created by Francine Turk based upon Miles's own artwork suggests (and tinged with the heavy influence of Basquiat), Everything's Beautiful is largely an impressionistic effort.  While its songs are built around Miles samples, it is often difficult to tell where samples end and new material begins.  Tribute albums often consist predominantly of cover versions of key tracks from the original artist's repertoire.  However, Everything's Beautiful features a starkly different approach—the closest thing to a cover on Everything's Beautiful is Georgia Anne Muldrow's reading of "Miles Ahead," an electronic reimagining of the iconic tune that features Glasper's only piano solo on the disc. Much of the record depends on creative sampling—rather than grabbing a tune's hook (a la US3's "Cantaloop"), Glasper and company pick small bits and pieces to construct their new tracks.  "I'm Leaving You," for instance, is punctuated by a sample of Miles saying "Wait a Minute" atop a Lenny White drum pattern.  John Scofield (a Davis band alum) grooves and solos on the funky track while Ledisi lays down R&B inflected vocals.  This sampling technique also informs the album's opener, "Talking Shit," on which Glasper and company lay down instrumental grooves combined with a sample of Davis talking about playing, likely recorded in the studio between takes.
The album is chock full of other superstar guests—Bilal appears on "Ghetto Walkin'", Illa J (J-Dilla's younger brother, who Glasper knew from his days hanging out at Dilla's house with Kareem Wiggins and) lends vocals to "They Can't Hold Me Down," Eyrkah Badu sings on "Maiysha (So Long)" and even Stevie Wonder makes an appearance, playing harmonica on the instrumental "Right on Brother." Each of these cuts reflects the featured artists' as well as Glasper's interpretation of Davis's legacy, lending broad room for experimentation in hip hop, funk, soul, R&B, and jazz, as the individual collaborator sees fit.
What this album lacks in cohesiveness or definition it makes up for in droves with experimentation.  Everything's Beautiful draws upon Miles Davis the innovator, using the trumpeter's words and music as a springboard for new sounds and approaches, solidifying jazz and hip hop through Glasper's tasteful neo-soul production. I must emphasize that there is nothing definitive about this album—it is certainly not the final word on the trumpeter's musical legacy and represents only one part of Miles.  But the adventurousness that these artists purvey is certainly a fitting tribute to a musician who was on the vanguard of all of the major jazz movements during his lifetime.
Reviewed by Matthew Alley