Title: Some Other Time: The Lost Session from the Black Forest
Artist: Bill Evans, with Eddie Gomez and Jack DeJohnette
Label: Resonance Records
Format: 2-CD set, MP3
Release date: April 22, 2016
Bill Evans' earliest issued recordings date from 1943, but his fame began to develop with his heralded recordings for Bill Grauer at Riverside Records, beginning with New Jazz Conceptions in 1956. He recorded as a sideman before and after that debut, including recordings led by Tony Scott, George Russell, Gunther Schuller, and Charles Mingus; however his most famous early affiliation, beginning in 1958, was with Miles Davis, interspersed with occasional recordings with other emerging stars, including sessions led by Cannonball Adderley and Chet Baker. One could simply not imagine a richer apprenticeship for a career that continued until a final recording on September 8, 1980, fittingly called His Last Performance. (For those with ties to Indiana University, two of George Russell's recordings with Bill Evans also included our own beloved David Baker and, with regard to the rich jazz legacy of Indianapolis, a later recording led by J.J. Johnson.)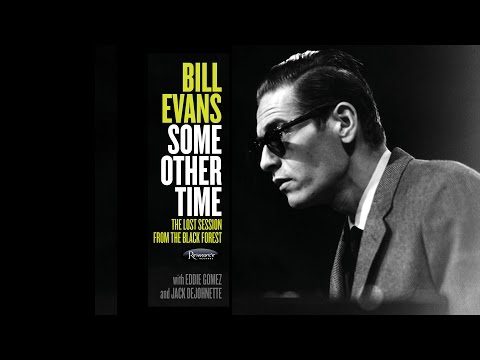 Evans can be enjoyed at many levels. His early Riverside recordings were criticized by some as resembling "cocktail piano." Time clearly does not honor such comments made by some early critics. Throughout his career, Evans remained faithful to improvisational approaches that constantly reflect the underlying melodies. His love for certain tunes was clear; however, the rhythmic and harmonic variations that increasingly entered his vocabulary as a performing artist established his reputation as one of the finest pianists and artists in the history of recorded jazz music. His rich legacy survives in various studio, concert, and club recordings, as well as in a large number of bootleg issues. His popularity has led to multiple releases over the years packaged as deluxe box sets that document all stages of his career.
Some Other Time is simply the latest released recording in his career, featuring a full day of recording captured on June 20, 1968, in the legendary studio of Hans Georg Brunner-Schwer in Germany's Black Forest. A number of recordings on his MPS/Saba/BASF label featured pianists, and the sound quality of all that I have heard is superb. When the label was acquired by Universal/Verve, the series of albums by Oscar Peterson was featured in two fine CD sets. This recording by Bill Evans would fit nicely into that series. Due to problems obtaining legal rights, this music remained unissued until now, perhaps because of Evans' ongoing relationship with Verve Records at the time.
The late 1960s was a busy recording time for Herr Brunner-Schwer, and this session is nestled chronologically amidst several releases by one of Europe's most famous jazz groups, the Kenny Clarke/Francy Boland Big Band, a group he extensively documented on MPS records. Fortunately, despite his busy schedule, there was time for this relaxed, invited studio performance following Evans' appearance at the Montreux Jazz Festival. The Verve album released from that performance won Evans his second Grammy ® award, yet another indication of the level he reached in this trio with DeJohnette (drums) and Gomez (bass). Perhaps the fact that DeJohnette played the piano before shifting his attention to drums played a role in framing their relationship?
Some Other Time is one of the finest recordings in the recent series of releases by Resonance Records. Evans is relaxed. His approach is pure. The surroundings suited him. The sound quality is ideal, capturing subtle nuances in the performance of these fine tunes. Recordings with this particular version of the trio can only be heard in one other place, the box set The Secret Sessions (Milestone 8MCD-4421-1), although the musicians are also included in another released recording with John Lewis. Perhaps recordings will surface some day from the Trio's subsequent four week booking at Ronnie Scott's club in London, for that, too, was a special place.
The notes that accompany this new release are well prepared; however, I am personally moved to add that the first CD closes with the finest and most moving performance of Leonard Bernstein's "Some Other Time" that I have ever heard. It may be just my mood of the moment, but Evans' performance strikes me as deeply personal and reflective. It rightly serves at the chosen title for this remarkable album. Emotional responses to musical performances are always very personal, and others may obviously disagree with me on this point, as I might even feel at a different time. But this tune was positioned as a climax near the end of Bernstein's On the Town, and in that role caused us to think about what may lie in our futures. Evans' future was clouded by the legacy of his drug use, but here he fills us with a sense of awe, wonder, and hope.
Obviously I am a fan of Evans' artistry, holding many of his audio and video recordings in my personal collection. Some Other Time: The Lost Session from the Black Forest serves two purposes: to provide an introduction for those who have not listened to Evans before, and to deepen the appreciation of his talent for those who, like me, have enjoyed many of his recordings in the past. Long ago, when I had a weekly radio program on a Purdue University student-run station, I used Evans' recording of "The Washington Twist" as my theme song. That takes me waaaay back. But this music, while recorded in 1968, is truly for all of us today.
Reviewed by Thomas P. Hustad