Title: Aw Sa Yone Vol. 2
Artist: DIEUF-DIEUL de Thiès
Label: Teranga Beat / Forced Exposure
Formats: CD, MP3, 2LP Collector's Ltd Edition (300 copies), 2LP Deluxe Edition
Release date: October 30, 2015
Senegalese band DIEUF-DIEUL de Thiès has a long history, from their origins in 1979 to their breakup in 1983. Now the band is back together again and planning their first international tour, while also issuing previously unreleased recordings from the early 1980s.
Aw Sa Yone Vol. 2 presents the remainder of the tracks from the recording session featured on Aw Sa Yone Vol. 1, as well as three tracks from a lost 1981 recording. The combination of Mbalax (the national popular dance music of Senegal and the Gambia), Afro-Cuban, and Afro-jazz ballads creates a memorable and full-spirited album.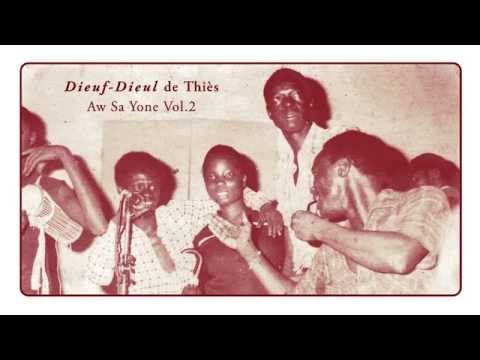 The horns, fuzz guitars, and tight percussion fuse traditional Senegalese melodies and instruments with electric psychedelic music. Five of the seven tracks are sung by Bassirou Sarr, whose emotional and soulful voice pairs with any genre. Also featured is a cover of the Latin ballad "Rumba Para Parejas" sung by Assane Camara. Other standout songs include "Ariyo" and "Nianky," which are full of energy and rhythm.
Aw Sa Yone Vol. 2 includes a 16-page booklet, full of history about the band and their recordings. The album is also available in a limited Collector's Edition double LP, housed in a silk screened sleeve with a large poster, perfect for anyone wanting to discover more about music coming out of Senegal in the 1980s.
Reviewed by Anna Polovick