Title: Splendor & Misery
Artist: clipping.
Label: Sub Pop
Formats: CD, LP, Cassette, MP3
Release date: September 9, 2016
Afrofuturism is an engagement with and an intervention into the tropes science fiction, denying the assumption of the whiteness of speculative worlds and claiming a place in space for people of African descent and Black culture. In literature, authors such as Octavia Butler and Samuel Delaney have imagined future Earths or space adventures populated with the characters and themes important to the historical and contemporary Black Diaspora and the transnational cultures of the Black Atlantic.
In music, bands and musicians such as Parliament, Sun Ra, Drexciya, Kool Keith and Deltron 3030 have created personas and albums using the tropes of Afrofuturism. Clipping.'s new album, Splendor & Misery, engages with this musical aesthetic, drawing on experimental electronic music, hip hop and gangsta rap to create a thrilling and emotionally affective sonic space opera.
Daveed Diggs, William Hutson and Jonathan Snipes' debut, CLPPNG (Subpop, 2014), was a rap album performed and recorded in an experimental manner. The group deployed the themes and language of gansta rap through rhymes spit over analogue synthesizers and experimental beats, delivering the poetic and profane narratives over blasts of electronic noise. Even though it was not a concept album or a rap opera, because of its execution, it could be interpreted as a series of interconnected stories.
Splendor & Misery shares the flow and the experimental production of CLPPNG, but it is radically different in tone. This time, Diggs (the star of Hamilton), Hutson (a.k.a. Rale) and Snipes (also of Captain Ahab) set out to create an intentional concept album about a slave named Cargo 2331 who survives a slave revolt on an intergalactic transport where all human inhabitants except him have been terminated with gas. This leaves him alone with the ship's computer, who we learn falls in love with 2331 on "All Black Everything." This and other songs are told from the perspective of the ship's computer, while others such as "Air Em Out" tell of Cargo 2331's experience on the ship and his background growing up. The rap songs are intercut with spiritual-style acapella songs like "Story 5," breaking up the flow of the rhymes and beats with both mourning and hope, and grounding the science fiction themes into a musical genre that evokes the Black Atlantic narrative.
The melding of rap and experimental noise music on clipping.'s first album was an aural shock that some rap and hip hop critics disliked, accusing the group of not being "real" hip hop (see Wondering Sound interview). In my opinion the white noise, clanks and saw tooth waves evoked an industrial violence that tangled together nicely with the pulp crime aesthetics of the album's gangsta rap lyrics. It was jarring, but the discordance of the noise and flow in a song like "Dominoes" worked together, evoking the life of a gangsta who survived the game, in an exciting way.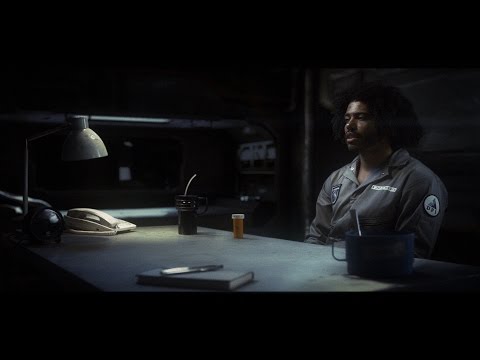 The blips and fm noise on Splendor & Misery fit more logically into a story of a protagonist on a ship floating in space; for many listeners these sounds signify science fiction space and because of this, the beats and flows sound more incorporated. On this album, it is the spirituals that are jarring to the listener. Nodding our head to a tuff banger one minute then being immersed in the longing and sadness of a spiritual the next is a different, potentially more difficult kind of dissidence. Rocking out to the catchy rhymes of "Air Em Out," then switching gears to a song like "Story 5" that tells the story of Grace—a community leader who taught self-defense in a dystopian world but who was randomly struck down—could be off-putting to some listeners. But as an album, clipping. makes it work.
Bouncing around between themes of anger, defensive posturing, inspiration, alienation and spirituality, narrating how the character survives violence and determines his own future, clipping. weaves both musical styles and the various themes together into songs like "True Believer" or the uplifting album closer "A Better Place." Sometimes music groups who deliver exceptional debut albums struggle with their sophomore album, delivering a pale imitation of the first, or an unfocused muddle that does not become clarified until subsequent albums. clipping. avoided both those scenarios by gathering up everything they worked out on CLPPNG, heeding the call of the Mothership and blasting their game out into space chanting "All Black Everything."
Reviewed by N. A. Cordova