Title: In the Christmas Groove
Artists: Various
Label:  Strut/!K7
Format: CD
Release Date:  September 29, 2009
No doubt the funkiest holiday CD released this year, In the Christmas Groove is guaranteed to spice up your parties.  The compilation features 12 rare soul, funk and blues tracks from the golden era of '60s and '70s soul music "when the good groove met the jingle bells to devastating effect."  Selections include "Boogaloo Santa Claus" by J. D. McDonald, "Funky Funky Christmas" by Electric Jungle, "Soul Santa" by the Funk Machine, a rocking "Auld Lang Syne" by Seattle's Black on White Affair,  and  an upbeat "Black Christmas [in the ghetto]" by the Harlem Children's Chorus.  An extensive booklet with original sleeve artwork and liner notes by James Maycock accompanies the CD (unfortunately not included with my promo copy).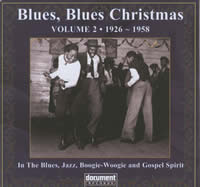 Title: Blues, Blues Christmas Volume 2
Artists: Various Label: Document
Format:  2 CDs
Catalog No.: DOCD-32-20-15
Release date: December 2009
Following up on the success of "Blues, Blues Christmas: 1925-1955" (Volume 1, DOCD-32-20-9), Document has just released a second volume of Christmas songs "in the blues, jazz, boogie-woogie and gospel spirit."  The budget priced two-CD set includes illustrated liner notes by Jeff Harris and 44 tracks that offer a grab bag of holiday themed entertainment.  Selections range from Blind Lemon Jefferson's  "Christmas Eve Blues," and Lightnin` Hopkins' "Merry Christmas" to Chuck Berry's "Run Rudolph, Run," Fats Waller's "Swingin' Them Jingle Bells" and the MoonGlows' "Hey Santa Claus."  There's also plenty of "gospel spirit," including "When Was Jesus Born" by the Heavenly Gospel Singers,  "There Was No Room At The Hotel" by the Lucy Smith Jubilee Singers, "Silent Night, Holy Night" by Sister Rosetta Tharpe, and "Sweet Little Jesus Boy" by Wings Over Jordan.

Title: Have a Crazy Cool Christmas
Artist: Kermit Ruffins
Format: CD; MP3
Label: Basin Street Records
Release date: November 10, 2009
New Orleans jazz trumpeter Kermit Ruffins offers a swinging take on holiday classics ranging  from "Santa Claus is Coming to Town" to "Little Drummer Boy," along with his own holiday compositions "Crazy Cool Christmas" and "A Saint's Christmas."  Special guests include Irvin Mayfield on organ, Troy "Trombone Shorty" Andrews, and members of the Rebirth Brass Band.  Ruffins also adds some respectable vocals to the mix.  This gets our vote for best new holiday release of 2009 in the non-gospel category.

Title: A Christmas Gift for You from Phil Spector
Artists:  Various
Label: Sony Legacy
Format: CD; MP3
Release Date: October 26, 2009
Originally released in 1963, this compilation has been called "the greatest rock & roll Christmas album of all time" due, in part, to the legendary "wall-of-sound" added by producer Phil Spector.  Featured artists include the Ronettes ("Frosty the Snowman," "Sleigh Ride," "I Saw Mommy Kissing Santa Claus"), the Crystals ("Santa Claus is Coming to Town," "Rudolph the Red-Nosed Reindeer," "Parade of the Wooden Soldiers"), Darlene Love ("White Christmas," "Christmas (Baby Please Come Home," "Marshmallow World"), and Bob B. Soxx and the Blue Jeans ("The Bells of St. Mary," "Here Comes Santa Claus").  Many thanks to  Sony Legacy for getting this classic back in print.


Title: Ultimate Christmas Collection
Artist:  Jackson 5
Format:  CD; MP3
Label:  Motown
Release Date:  October 13, 2009
Many tribute albums, videos and films have already been released this year, but who can get enough Michael Jackson, especially little Michael with the Jackson 5? This compilation includes the group's 1970 Christmas album along with other fun bonus tracks, such as MJ's version of "Little Christmas Tree" and some funky new remixes.  A wonderful bit of nostalgia for us older folks, and an album you'll want to share with the kids during the holidays.
Posted by Brenda Nelson-Strauss