Title: Black Tea – The Legend of Jessi James
Artist: Jessica Care Moore
Label: Javotti Media/dist. Fat Beats
Formats: CD, LP, MP3
Release date: October 2, 2015
Detroit's Jessica Care Moore—a reknown poet, playwright, performance artist and producer—has achieved success through a wide variety of ventures: as a five time winner of "It's Showtime at the Apollo" competition; as the author of poetry collections including The Alphabet Verses The Ghetto, God is Not an American, and Sunlight Through Bullet Holes; as a performance artist in The Missing Project: Pieces of the D and Black Statue of Liberty; as a returning star of Russell Simmons' HBO series "Def Poetry Jam;" as CEO of Moore Black Press; and as host, writer and co-executive producer of the poetry-driven television show "Spoken" on The Black Family Channel. But throughout her career, Moore has also indulged her passion for music. Her poetry was featured on Nas's Nastradamus album and Talib Kweli's Attack the Block mixtape, and she's led the Black WOMEN Rock! concert series since 2004. So it should be no surprise to learn that Moore has long been yearning to record her own album.
Black Tea: The Legend of Jessi James, Moore's official solo debut on wax, features notable jazz, soul, techno and hip hop musicians and producers who bring Moore's vision to life. That vision is more reminiscent of the lilting "jazz poetry" of Langston Hughes than the Black Power era recordings of The Last Poets, Gil Scott-Heron, and Imamu Amiri Baraka, or the half-sung, half-rapped sprechstimme of her contemporary, Saul Williams. Moore emphasizes the purity and strength of the spoken word with poems that recognize the central role of music to the Black experience, but she relies solely on the band and backup singers to weave in the musical accompaniment. A number of featured guests contribute to this effort, including Imani Uzuri, Roy Ayers (vibes), Talib Kweli, Jose James, One Belo, Ideeyah, Ursula Rucker, Alicia Renee, and Paris Toon. The band is led by pianist Jon Dixon (Underground Resistance), with Nate Winn on drums, Ben Luttermoser on bass, De'Sean Jones on sax, and Nadir Onowale (Distorted Soul) on the mixing boards.
Black Tea opens with a spoken introduction—the legend of Moore's alter-ego, Jessi James: "she is his reflection, a city-country girl, a gold horse kissing his black . . . she was waiting for him to call her name – Jessi James of Detroit, of Brooklyn, of Southern blues, of Harlem, of Colorado mountains . . . Detroit jazz, poet outlaw – sometimes the tea is spiked."
Following are several jazz-based tracks, including "Walking Up 150th Street" featuring Chris Johnson on trumpet, "Pieces" featuring Detroit rock-soul singer Ideeyah, "Deep Breath" featuring alt-rapper One Belo, and "You Want Poems" with Roy Ayers and Jose James. On "It Ain't Like We Didn't," the music shifts from jazz to an acoustic Delta blues style, with Moore riffing on the importance of the genre: "We die for the blues 'cause we're born with it . . stone rolling blues runs deep in these veins . . . know your place brown girl . . ."
An acoustic Spanish guitar opens "I Catch the Rain," with ethereal background vocals provided by Imani Uzuri and Ursula Rucker, while Moore speaks of "this earth keeps pulling back to this place where I buried my wounded heart, countless times, this land of broken promises, this nation of liars, I will not give birth surrounded by all this fear . . ."
Ideeyah returns on "Wild Irish Rose," singing the chorus "stay away from women with stems extending far beyond their flowers" between verses of Moore's poem: "If I leave a seed on every corner maybe my people won't forget me / I know God sent me, or the wind might have dreamt me / So many spirits sitting on top of Motor City, but I got to do something with the power my ancestors leant me . . . Another garden gone, won't be long before Black girl doesn't get to sing her song, 'cause Daddy and the greenhouse disappeared at dawn.
Another highlight is "Catch Me if You Can," a tour de force alternating between Moore's reverb soaked verse and Talib Kweli's rapid fire delivery, backed by acoustic guitar and trumpet.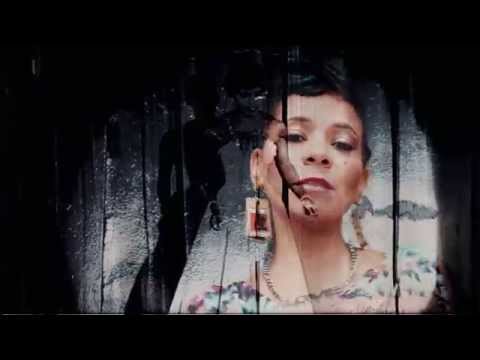 Black Tea: The Legend of Jessi James is Moore's lush and provocative HERstory, a shape shifting fable rooted in the cultural experiences and music of the 21st century Motor City. This album is especially recommended for those who enjoy contemporary poetry, and for libraries collecting sound recordings of poetry set to music.
Listen on Spotify here
Reviewed by Brenda Nelson-Strauss