Title: Afro Blue
Artist: Harold Mabern
Label: Smoke Sessions Records
Format: CD, MP3
Release Date: April 14, 2015
Veteran jazz sideman Harold Mabern returns with his second release as leader on Smoke Sessions Records, Afro Blue. This record seems to have a mixed agenda, with some songs dedicated to longtime friends and associates of Mabern, such as "The Chief" (written for John Coltrane), "Afro Blue" (A Coltrane Tune), "The Man From Hyde Park" (written about Herbie Hancock), and "Bobby, Benny, Jymie, Lee, Bu" (which immortalizes one of Art Blakey's classic lineups), with some including the presence of high-profile guest stars, and others seeming to appear on the record "just because."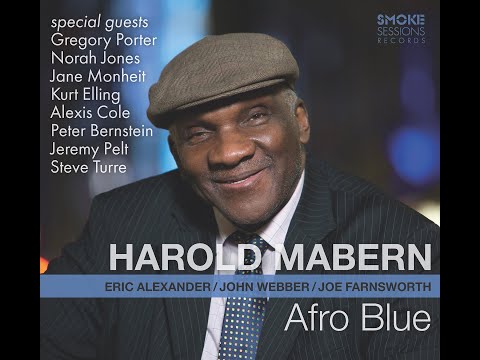 Some of the things that Mabern does on this record are similar to what many elder artists do when performing duets with guest artists, particularly as less-famous instrumentalists recruit superstar artists (in the case of this album, Gregory Porter, Norah Jones, Jane Monheit, and Kurt Elling) in order to provide some variety and potentially boost sales. However, what is different about Afro Blue than many similar efforts is that Mabern emphasizes his role as an accompanist, allowing the album's guest stars to lead him in divergent directions of their own choosing. With Jones, for instance, this means breaking the small-group format prevalent on the rest of this album in favor of a piano-voice duet on "Don't Misunderstand." This also takes shape on the recording of the bop classic "Billie's Bounce," featuring Kurt Elling delivering a compelling scat performance on the Bird tune. Clearly, Mabern is interested in experimenting with the small vocal and piano group, rather than conforming to the format's most well-established clichés.   Other interesting musical choices include the inclusion of a gospel-tinged version of Anne Murray's "You Needed Me" featuring Elling and a rendition of Steely Dan's "Do it Again" featuring guitarist Peter Bernstein.
While much of this record is reminiscent of the cliches found in the "jazz instrumentalist working with guest stars" playbook, these plays are followed well by Mabern, and often diverge from well-established formulas in creative ways. Further, Afro Blue has some excellent playing and interesting surprises that will delight jazz fans.
Listen on Spotify here.
Reviewed by Matthew Alley