Title: Spider Eating Preacher
Artist: Eddie C. Campbell
Label: Delmark
Catalog No.: 819
Formats: CD, MP3
Release Date: February 21, 2012
As the title suggests, this album isn't just another cookie-cutter Chicago electric blues outing.  It's even somewhat different from the typical Delmark release as it is produced by veteran freelancer Dick Shurman and features a large ensemble of horns, two guitars, bass, drums and occasional violin from Campbell's son, David.
At 72, Campbell is still strong of voice and nimble-fingered in his West Side guitar style. The songs, mostly written by Campbell, sometimes with his wife Barbara, are interesting and move right along. This is not a heavy, dirge-like style of blues; it is an upbeat and sonically interesting flavor of the old genre, an older man making newer sounds.
Campbell's wife, who is also his manager, plays bass on some tracks. Also behind him is veteran guitarist Lurrie Bell, son of legendary harp player Carey Bell. Campbell's working band is augmented by extra keyboards and horns and substitute drummer Robert Pasenko, who keeps a steady beat but lays back and lets the guitars and vocals dominate.
Playing a reverb-heavy amplified guitar, Campbell picks his notes precisely, in the West Side Chicago style most famously exemplified by the late Magic Sam (also a Delmark artist during his brief recording career).  Campbell has been around for decades, playing Chicago clubs and recording a few times for tiny labels; this is his second Delmark release. Midway through the album, he reprises one of his early singles, "Soup Bone." But this version is different enough that producer Shurman suggested he re-title it "Soup Bone (Reheated)."
Following is a club live performance of "Skin Tight," which is on the new album: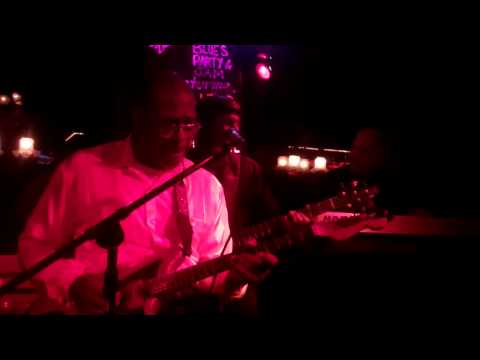 The album also includes a tune, "My Friend," for Living Blues magazine founder Jim O'Neal, who is battling cancer and has no health insurance (see Howard Mandel's article for information on how to contribute to O'Neal's healthcare fund).
Throughout the 15-song outing, Campbell proudly projects youthful vitality and the musical authority that comes with age and experience.  Bill Dahl's concise but informative notes round out the excellent package.  Definitely recommended.
Reviewed by Tom Fine