Title: Levels
Artist: Soul Brass Band
Label: Independent
Formats: CD, LP, Digital
Release date: July 19, 2019
The Soul Brass Band, under the leadership of front man Derrick Freeman, just released their newest album Levels. Before founding this New Orleans-based brass band, Freeman—a virtuoso percussionist, vocalist, and pianist—performed with Kermit Ruffins as well as other notable bands like Mass Hysteria and Coolbone. Levels mixes the sounds of the brass band with soul, R&B, and hip hop, and includes lyrics that uplift and encourage people to 'keep on pushin' and enduring through the different spheres of life. The title track, "Levels," as well as "How Far We Come" and "Ease on Down The Road" all articulate this positive mentality that stimulate and elevate one's consciousness. Musically speaking, the album maintains a consistent level of high spirited energy throughout. From the lush and crisp harmonies in the horns to dynamic head-bopping grooves in the rhythm section, Levels certainly creates the perfect party atmosphere for all listeners.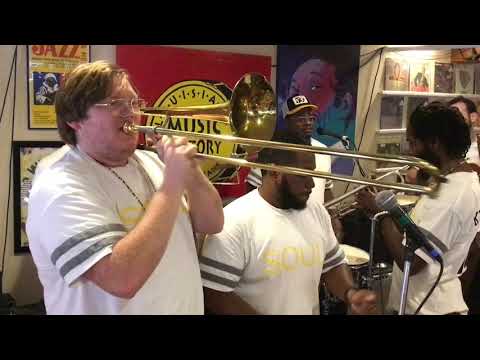 Reviewed by Jamaal Baptiste