Title: Son of the Seventh Son
Artist: Mud Morganfield
Label: Severn Records
Catalog No.: CD 0055
Format: CD
Release Date: March 20, 2012
Mud Morganfield is the oldest son of Muddy Waters (McKinley Morganfield). At 57 years old, he is a new-comer to the bluesman profession, having played his first professional gig in 2005 and made his first festival appearance in 2007, according to the CD liner notes.  Morganfield's voice and presentation show very clearly that the apple didn't fall far from the tree.  It works well on this album, but to move forward he will need to develop his own style further. In other words, the apple is so close to the tree that, for now, Morganfield is in his father's shadow.
Producer Bob Corritore, who also plays harmonica on several cuts, writes in the liner notes that the album was recorded in 2 days "during the extremely cold Chicago winter of February 2011."  Backing up Morganfield is a very tight band of Rick Kreher and Billy Flynn on twin guitars, Barrelhouse Chuck on piano and guitar, E. G. McDaniel on bass, Kenny "Beedy Eyes" Smith on drums and Harmonica Hinds splitting harp duties with Corritore.
Morganfield's voice and singing style is very similar to late-era Muddy Waters, think of the late 70's albums produced by Johnny Winter on CBS/Blue Sky Records. It's a harder and heavier blues than Muddy's Chess-heyday material, but it's still much less ploddy and leaden than much current electric-blues output. Mud demonstrates nice control of his voice and sounds like he enjoyed the recording sessions, being appropriately light during the flirty tunes and appropriately heavy during the slow blues.
Following is a recent performance on WGN-Chicago's midday news: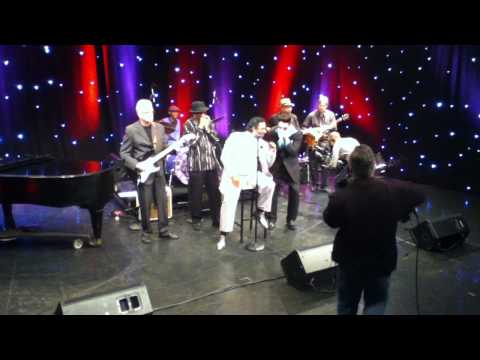 The striking similarities between Mud and Muddy present a dilemma to a reviewer.  On the one hand, we've heard this before.  But, on the other, it was great music the first time and it's done very well here and now by this band of living musicians. Also, to be fair, Mud does have some current-era lyrics and has written some new songs for this album. But when he lays into the groove of "You Can't Lose What You Never Had," it's eerie how much he sounds, phrases and pronounces words like his father did 50 years ago.
Mud Morganfield's singing abilities, obvious musical talent and name-recognition should set him on a successful journey in the music business. Here's hoping he evolves to a more original style and walks boldly out of the shadow of his legendary father. Meantime, this is a very good start and, again to be fair, no other living blues performer could pull off these tunes in the manner that Mud Morganfield has.
Reviewed by Tom Fine