Title: Live at Montreux 2006
Artist: Solomon Burke
Label: Eagle Rock Entertainment
Release date: July 9, 2013
Solomon Burke, well-known for his masterful blend of R&B, gospel and blues, was a dynamic performer and pioneer in soul music. In the 2000s, he appeared live at Montreux Jazz Festival several times and this DVD documents his 2006 performance. From the thrilling Solomon Burke in his sparkling suit offering roses to audience members, to the parade of horns throughout the crowd, and Claude Nobs'—founder of the Montreux Jazz Festival—harmonica solo, there's much to be entertained by as the "King of Rock 'n' Soul" belts out a mix of soul, blues, and gospel songs.
To call this performance energetic would be an understatement. While seated on his throne—he fully embraced the King of Rock 'n' Soul title donning a crown, scepter and cape earlier in his career—he gives more energy than most could do standing up, and he commands the same from his band members. Between songs, he engages with the audience, encouraging them to sing and dance along, often singling out individuals and talking to them directly. It's clear he is enjoying himself as he dances while seated upon his throne.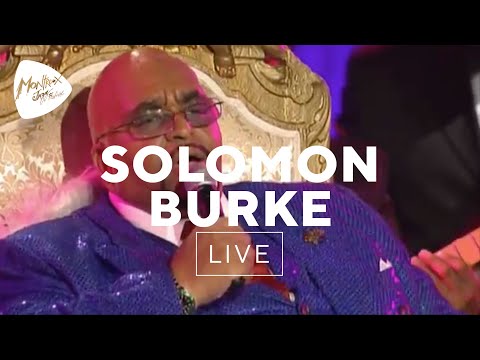 Among his own hits—including a medley of "Just Out of Reach," "He'll Have to Go," "I Almost Lost My Mind," and "It's Just A Matter of Time" among others—are a few covers. One special moment during his performance is a tribute to the short-lived super-group, The Soul Clan, in which he weaves anecdotes of his personal experiences with Otis Redding, Ben. E. King, and Wilson Pickett among covers of their songs "(Sittin' On) The Dock of the Bay," "Stand By Me," and "In the Midnight Hour."
While both the DVD and CD allow us the opportunity to experience the late Solomon Burke's soul stirring vocals once again, unfortunately the CD condenses the performance to 17 tracks that do not include the full medleys. The DVD includes 20 tracks, and is highly recommended.
Reviewed by Christina Harrison