Title: Fat Man's Shine Parlor
Artist: Smokin' Joe Kubek & Bnois King
Label: Blind Pig
Formats: CD, MP3
Release date: February 3, 2015
When Smokin' Joe Kubek and Bnois King first teamed up in a Dallas club back in 1989, sparks were practically flying off their electric guitars, and thus was born a duo that's endured for over two decades. The Texas-born Kubek is renowned for his smokin' hot technique and blues-rock guitar licks, while Louisiana-born Bnois King brings a softer, jazzier edge with his hollow body Gibson. King also contributes the soul-charged vocals, honed at an early age when attending his grandmother's sanctified church.
On their latest collaboration, Fat Man's Shine Parlor, they work to recreate the essence of a Dallas establishment by the same name (discovered by Kubek back in the day), where getting a shoe shine was just one of the many services provided—some legal, some not so much. The twelve original tracks, all co-written by the duo, resurrect the character of the place—from the soul food ("Cornbread") to the women ("One Girl by My Side") and the whiskey ("River of Whiskey"). Stand-out tracks include the '70s style rock ballad "Diamond Eyes," the rhythm and blues influenced "Crash and Burn," the swinging "Lone Star Lap Dance" that showcases the guitarists different styles, and the more traditional "Done Got Caught Blues" where Smokin' Joe takes the lead and brings it on home. Also contributing to the project are Shiela Klinehefter on bass, Eric Smith on drums, and Kim LeFleur on backing guitar.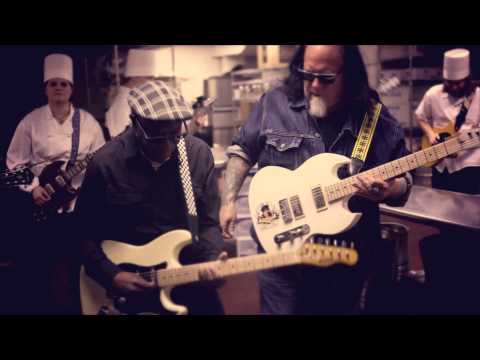 Featuring exceptional musicianship and blues-rock fueled tracks, Fat Man's Shine Parlor has wide-ranging appeal, with engaging songs rooted in the African American experience.
Listen on Spotify here.
Reviewed by Brenda Nelson-Strauss