Title: Pick Your Poison
Artist: Selwyn Birchwood
Label: Alligator
Formats: CD, Digital
Release date: May 19, 2017
Selwyn Birchwood has revitalized the blues scene in recent years with his lap steel and hard driving six-string guitar. The rising star from Orlando, Florida, where steel guitar is a familiar presence in both sacred and secular music, has drawn many new fans to the blues. Birchwood has also impressed the many legendary musicians with whom he has shared a stage, including Robert Cray and Buddy Guy. After winning the International Blues Challenge in 2013, the Selwyn Birchwood Band has been touring non-stop, impressing audiences worldwide with their high energy performances. Band members include Regi Oliver (baritone, tenor and alto sax and flutes), Huff Wright on bass, and Courtney "Big Love" Girlie on drums and percussion.
Birchwood's sophomore outing for Alligator Records, Pick Your Poison, offers 13 original songs that draw upon multiple influences. As one might guess from the album's title, whiskey and women are alternating themes, with a dose of religion thrown in for good measure. The opening track "Trial By Fire" begins with a funky flute solo from Oliver before Birchwood takes over on guitar laced with psychedelic overtones belying his early fascination with Jimi Hendrix. "Even the Saved Need Saving" is a rollicking tune with a gospel style chorus and spiritual message: "Ya got to practice what you preach / Break the habit of hypocrisy / Get back doing faith faithfully / And practice what you preach." On the introspective "Guilty Pleasures," the twang of the steel guitar punctuates a laundry list of temptations, while the title track has a light reggae beat but deeper, darker lyrics that dig into the soul and offer no pity as the band builds to a rousing climax. Here's a live version of the song performed last summer: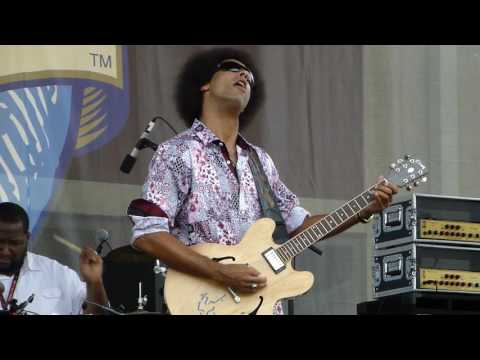 "Heavy Heart" is heavy on the blues rock, with Birchwood tearing up the guitar on an extended solo. The funk returns on "Are Ya Ready?" featuring rhythms and harmonies far more complex than any blues tune you are likely to hear this or any other year. "Reaping Time" is a return to the storytelling blues tradition—a man, a woman, a betrayal and a gun. You can guess the rest, but like all of the songs on this album, the quality of the songwriting and non-traditional approach to the blues really sets it apart.
Birchwood offers two socially conscious songs that comment on contemporary society. The lyrics of "Police State" are mirrored by a harder, angrier guitar picking style that speaks volumes as he sings, "Gotta shake these shackles before it's too late, or we'll be trapped in a police state." The album closes with "Corporate Drone," with Birchwood espousing non-conformity through his music and the lyrics, "Rather strike it out on my own." And he does – straight out of the park!
Pick Your Poison is another home run for Selwyn Birchwood. If you don't think the blues has anything new to offer, this album is guaranteed to change your mind.
Reviewed by Brenda Nelson-Strauss