Seattle-based Light In The Attic Records (LITA) is the release vehicle for the eclectic aesthetic of Matt Sullivan. In recent years, Sullivan has licensed and reissued various semi-obscure garage rock, pop and jazz albums from American and European artists, the soundtrack to the porno movie "Deep Throat," and plenty of deep-vault soul and funk.  This is the company responsible for re-introducing funk fans to Betty Davis, and for the Seattle soul retrospective and documentary "Wheedle's Groove."
The latest offerings from LITA are trips into the less traveled alleys of the vaults of two classic record labels: Chess and Stax.  In the LITA tradition, both reissue CD albums offer colorful packaging, exceptional booklet notes and good sound restoration/remastering. Their new sub label, Future Days Recordings, "is a place for albums that we love that have been available before but as sub-par reissues or worse, bootlegs."
===================================

Title: The Black Gladiator
Artist: Bo Diddley
Label: Future Days Recordings / Light In The Attic Records
Catalog No.: FDR 600
Format: CD
Release Date: March 13, 2012
By 1970, Chess Records was struggling. Founder Leonard Chess was dead, the label had been sold to tape duplicator GRT, and its heyday of hits was 10 years past.  Attempts were made to reinvent blues stars Muddy Waters and Howlin' Wolf for a hard-rock audience, in albums produced by Leonard Chess's son, Marshall. Muddy soldiered through Electric Mud, and Wolf made no secret of his disdain for his album titled, This is Howlin' Wolf's New Album. He doesn't like it. He didn't like his electric guitar at first either.
Then there was Bo Diddley (born Otha Elias Bates, later Elias McDaniel).  Always diverse and adaptable in his style, Diddley embraced the new reality of screaming guitars, thundering beat and heavier sound, and enthusiastically delivered The Black Gladiator, according to the album booklet.
Working with Chess co-founder Phil Chess and veteran engineer Malcolm Chisholm, Diddley crafted an album that was modern and yet retained the traditional Diddley/Chess feel and atmosphere. Clever lyrics, traditional call-and-response blues and tremolo-heavy guitar solos were augmented by the addition of a Hammond B-3 and an overdubbed backing chorus, voiced entirely by Cookie Vee (Cornelia Redmond), a veteran member of the Diddley ensemble. And there was the album artwork: Bo Diddley in his well-worn thick-framed glasses, shirtless, clad in leather belts and armor, looking like a blues dominator, ready to punish the skeptics.
In the end, what Bo Diddley delivered was a tight, well-constructed electric blues album. There is a nice variance of tempo and topic, and the playing is uniformly excellent. The second guitarist isn't identified, but the booklet notes speculate it was Diddley's nephew, Ricky Jolivet (aka Bo Diddley Jr.).
Proving he was still Bo Diddley, no matter what the style or venue, he closed the album with a bookend to the 1959 hit "Say Man," a "game of Dozens" with Jerome Green.  In the 1970 reprise, Diddley and Cookie Vee trade trash talk in a mock-operatic setting on the song "I Don't Like You." It's as far-out and funny as the description suggests.  Bo Diddley was one of a kind, and his response to the changes hard-rock brought was unique and enterprising. This album stands up very well 42 years later, although critics mostly dismissed it in 1970.
Following is the official promo video: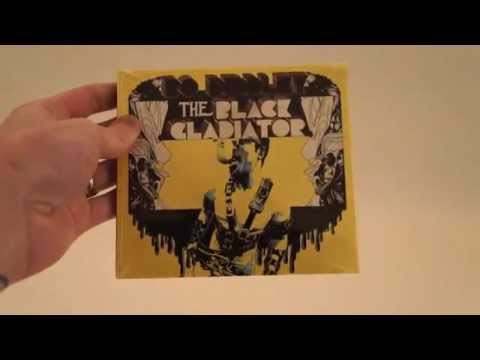 ===================================
Title: After Laughter Comes Tears: Complete Stax & Volt Singles + Rarities 1964-65
Artist: Wendy Rene
Label: Light In The Attic Records
Catalog No.: LITA 080
Formats: CD, LP, MP3
Release Date: February 7, 2012
Wendy Rene (Mary Frierson) was 16 in 1963 when she, her brother Johnny and two friends formed the Drapels singing group, took a bus across Memphis to Stax Records' studio/headquarters on McLemore Avenue, and talked their way into an audition for label president Jim Stewart. After hearing the group sing their audition, mostly original songs, he contacted their parents, signed them to a contract, and started recording them.  Her recording career was over 2 years later, and in 1967 she retired from the recording business.
The Frierson siblings walked into Stax at the right time. The label's ballad star, Carla Thomas, was away at college, and the usually reliable soul instrumentals from Booker T & The MG's and the Bar-Kays were not near the top of the charts in late 1963.  So Jim Stewart was eager to take a chance first on the Drapels and then on Mary Frierson, christened Wendy Rene by Otis Redding.
Although the music on this CD wears its age very well, only one song was a minor hit in its day, the bright and poppy "Bar B-Q," written by Steve Cropper and bassist Larry Brown. The other tunes, mostly written by Mary Frierson, sometimes with her brother Johnny, are generally excellent but now-obscure soul ballads.  The playing by the Stax house band is what you'd expect: funky and punchy but somewhat laid-back compared to a Motown or Duke-Peacock sound.
Why didn't Wendy Rene enjoy more success in the music business? Probably a combination of not standing out enough and her music being slightly "retro" by the mid-1960s. She would have fit in perfectly in the Phil Spector girl-group heyday a couple of years earlier. She also may have been a better fit in Spector's universe, but Mary Frierson was a Memphis girl and Stax was the home of soul in Memphis. In any case, it's nice to have these tunes back in print to enjoy today.
Following is the official promo video: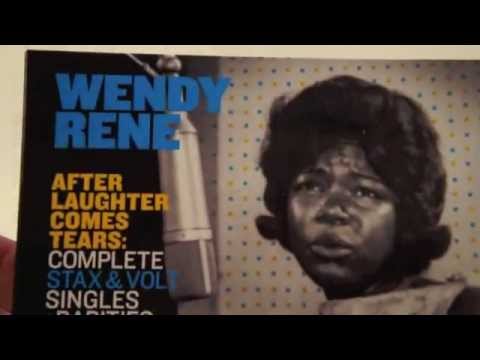 Worth mention is the excellent booklet essay by Andria Lisle, who tracked down Mary Frierson (now Mary Cross) in 2011 and witnessed an obviously joyous trip down memory lane.  Wendy Rene's music had a bit of resurgence in the hip hop era, with samples showing up in a tune by Wu-Tang Clan and Alicia Keys' remake of "After Laughter" (titled "Where Do We Go From Here"), royalties from which bought the Cross family a new home.
The Drapels and Wendy Rene singles and unissued masters on this CD show how deep the Stax catalog was, that even a "minor star" produced such consistently good soul music.
Reviewed by Tom Fine